Efforts to establish Kristiansund as the national subsea centre for the Norwegian continental shelf (NCS) above the North Sea were initiated by the town council in the early 2000s.
A number of factors prompted this initiative, including the fact that all the discoveries made on the Halten Bank in the Norwegian Sea since the 1980s were in relatively deep water.[REMOVE]Fotnote: www.npf.no/nyheter/kristiansund-onsker-subsea-aktivitet-vil-bli-best-pa-bunnen-article3328-193.html
Depths of 300 metres or more had encouraged a preference for subsea development solutions, and a number of fields in this part of the NCS utilised these during the 1990s.
Seabed wells for oil and gas production as well as for water and – temporarily – gas injection were already installed on Draugen when it came on stream in 1993.
Heidrun, with Statoil as operator once production began in 1995, had a concrete-hulled tension-leg platform (TLP) positioned over a subsea well template. The northern part of this field was also developed later with seabed installations.
And Smørbukk, Smørbukk South and Midgard – operated by Statoil as the unitised Åsgard field – were brought on stream in the 1990s with the aid of seabed wells.
These are tied back to the Åsgard A floating production, storage and offloading (FPSO) unit and the semi-submersible Åsgard B platform for processing gas and condensate.
All these projects called for base facilities and subsea technology expertise. So did laying the Haltenpipe gas pipeline from Heidrun to Tjeldbergodden north of Kristiansund in 1996-97.
Even more extensive was the huge Ormen Lange development in 850-1 100 metres of water, where unprocessed production is piped directly to Nyhamna between Kristiansund and Molde to the south.
After processing there, gas from the field is transported on through the Langeled export pipeline to the UK, which was completed in 2007.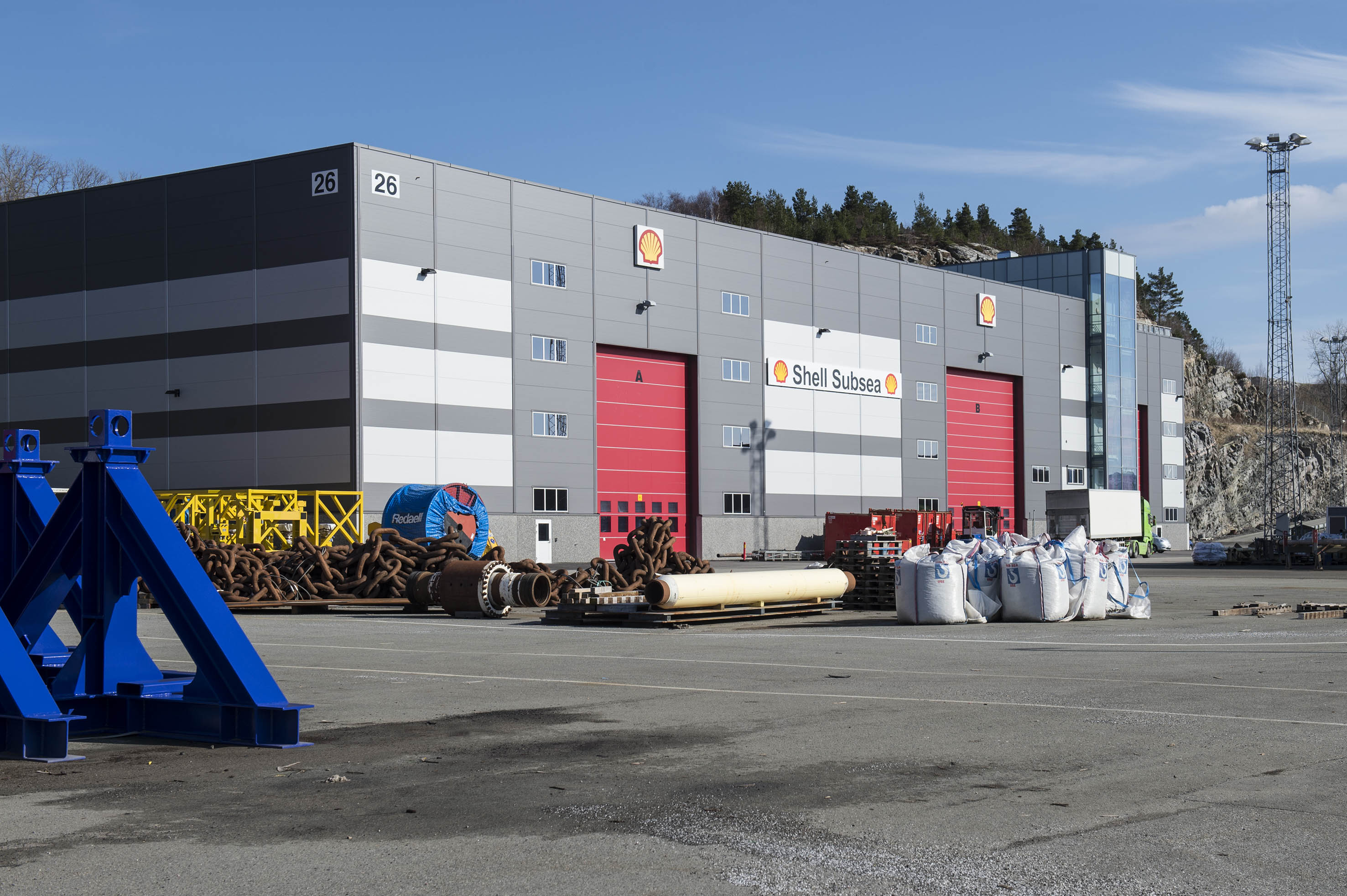 Subsea at Vestbase
Kristiansund's Vestbase offshore supply facility was perfectly positioned to support exploration operations on the Halten Bank when these began in the 1980s.[REMOVE]Fotnote: Hegerberg, 2012: 79–82.
Harbour conditions were good, and the base was the closest point on land from the fields in this part of the NCS. It provided supply, logistics and servicing for units in the Norwegian Sea.
Securing the operations organisation for Draugen and the base function for Heidrun meant that Kristiansund could truly call itself an oil centre.
That was reinforced when Norsk Hydro decided to position its operations organisation for Njord in the town. This field came on stream in 1997 from a semi-submersible drilling and processing platform tied to subsea wells.[REMOVE]Fotnote: Hegerberg, 2012: 84–86. Statoil took over this organisation after merging with Norsk Hydro's oil division in 2007.
But Shell was much more important for Kristiansund, with 60 employees at its Råket office and 120 working an offshore rotation on Draugen.[REMOVE]Fotnote: Project assignment on value creation in the Draugen operations organisation, management programme, BI Norwegian Business School, 1998. Hydro's local team totalled just 15-20 people.
Developments on the Halten Bank in the 1990s and beyond called for relatively substantial support, and suppliers in the town specialised in underwater services – such as pipelaying and advanced subsea technology.
Companies at Vestbase provided servicing and maintenance for subsea facilities, while large service firms opted to open branch offices and workshops there.
Subsea 7 was one of the earliest players to become established at the base, and had been operating in Kristiansund since 1985 until the oil slump in 2016 put a temporary halt to its business.
Kongsberg Offshore Subsea, now TechnipFMC, opened service shops in the early 1990s to provide installation and operational support for Draugen.
Vestbase was later expanded to handle maintenance of subsea equipment for Statoil's Norne, Åsgard, Kristin, Heidrun and Mikkel fields, including mobilisation and demobilisation of equipment.
Subsea facilities for the Ormen Lange field operated by Shell have also been maintained from TechnipFMC's service shop in Kristiansund.[REMOVE]Fotnote: Iris report 2013/031: 134.
Stavanger-based Subsea Services established a workshop as well as plant and coating services at the base, offering surface treatment to the strictest Norsok standards.
This company has a big storage area covering 8 000 square metres and its own quay able to handle supply ships up to 120 metres long.[REMOVE]
Fotnote: www.subseaservices.no/category/department/kristiansund 12 December 2017.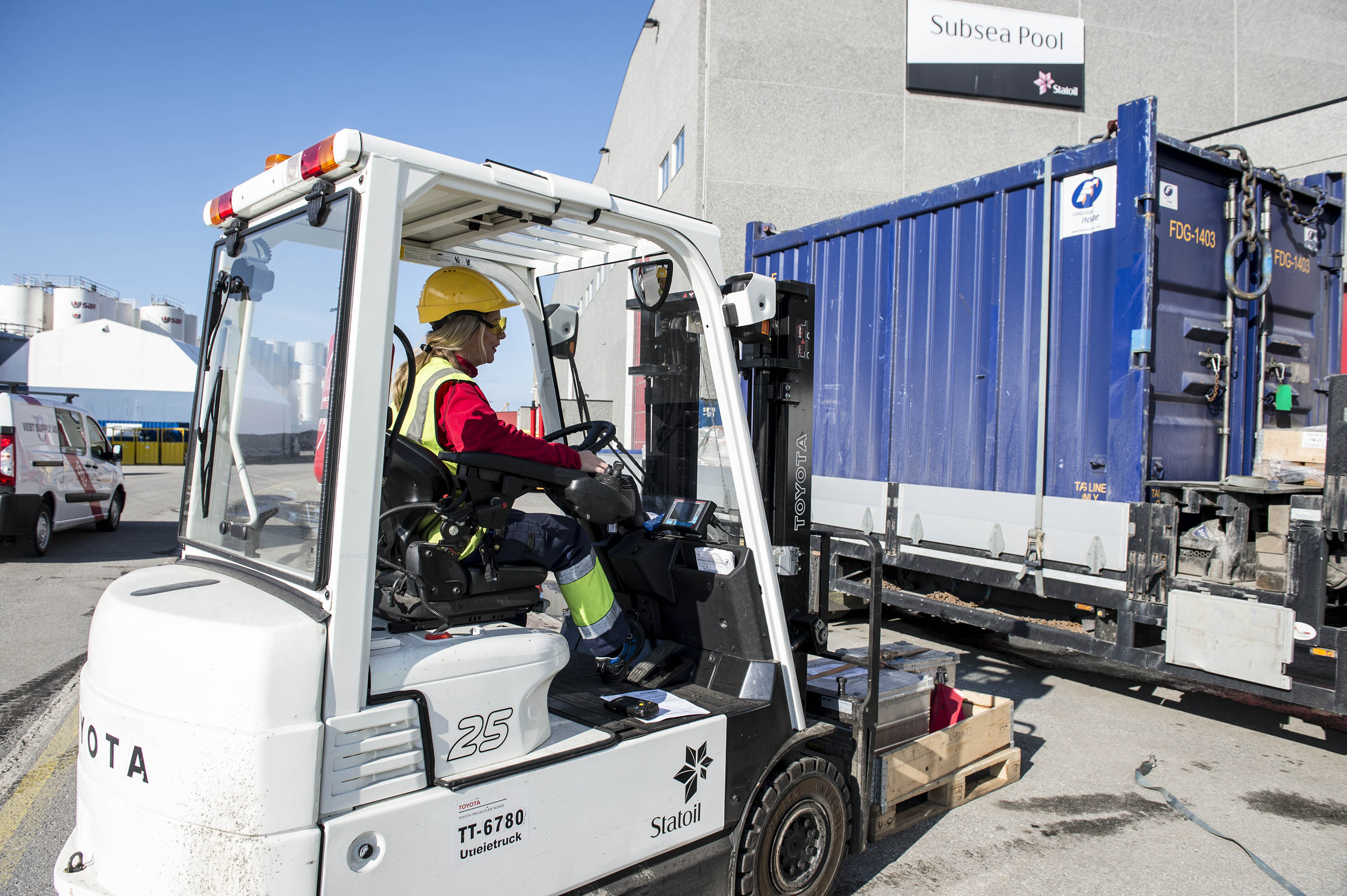 Pre-slump optimism
Up to 2014, great optimism prevailed about what subsea technology could bring to Kristiansund in the form of commercial activity. A feeling prevailed that easy money was to be made here.
That impression was entrenched after two entrepreneurs, Olav Kvalvåg and Terje Fagervold, sold GTO Subsea to America's Oceaneering for NOK 210 million in 2008.
This Kristiansund company delivered solutions for trenching and moving bottom sediments to development projects in water depths right down to 1 700 metres.
Based on a rock suction device with its own seabed pump, GTO Subsea started modestly in an attic room at Leira in Aukra local authority near Kristiansund in 1999. It had developed into one of the world's leading suppliers in its speciality.[REMOVE]Fotnote: Tidens Krav, 5 March 2008, "GTO solgt".
Disappointment locally was great when Oceaneering moved the whole business and its associated jobs to Stavanger.[REMOVE]Fotnote: Tidens Krav, 3 September 2009, "Mister unik teknologibedrift". But so many projects were under way in the Norwegian Sea that Kristiansund's subsea community saw little reason to grieve for long.
Statoil's Tyrihans oil and gas field came on stream in July 2009, for example, as a complete subsea development tied back to existing Halten Bank facilities on the Kristin and Åsgard fields.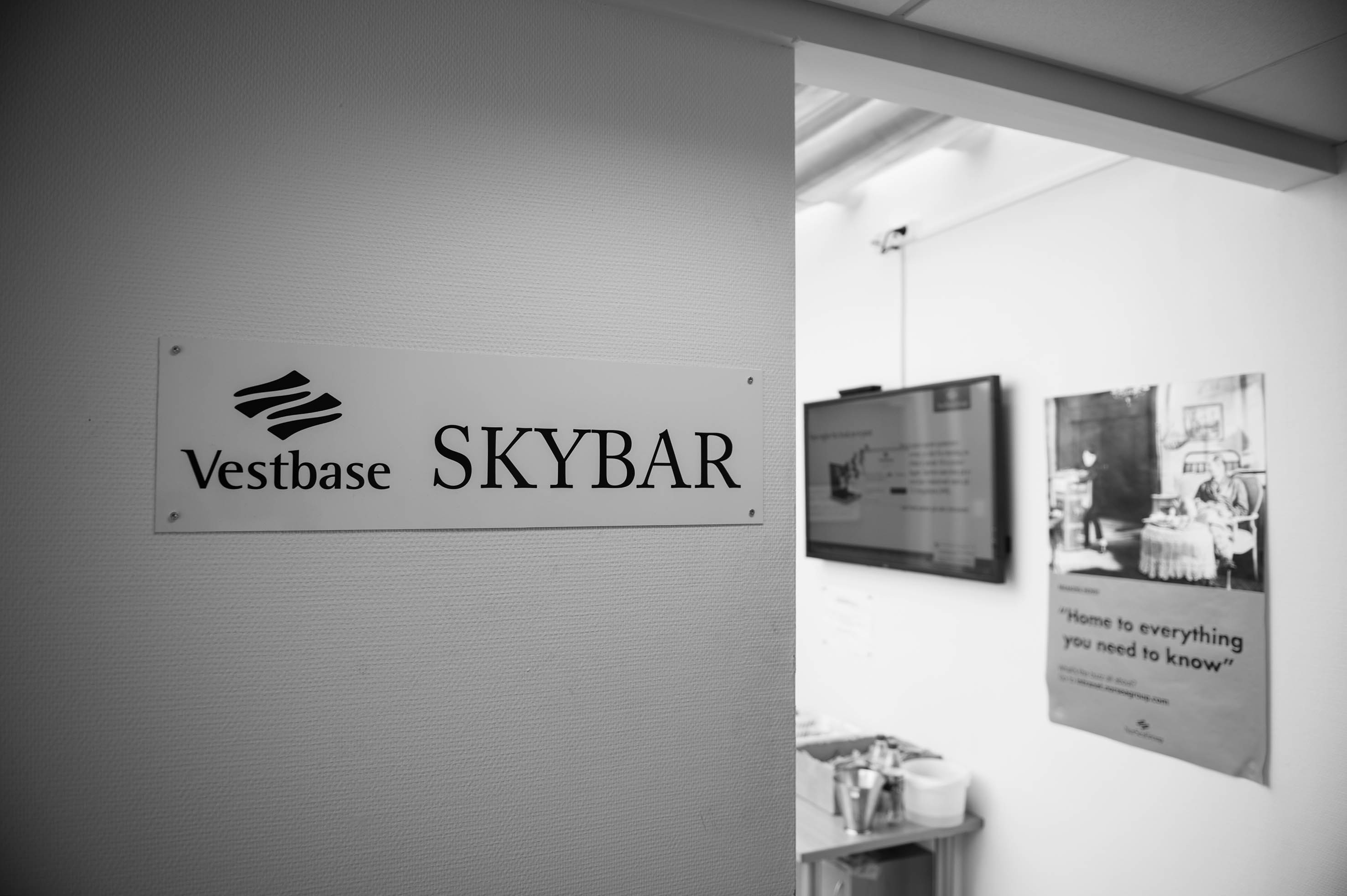 The full impact of the crisis sparked by the oil price slump had still not made itself felt when the Norwegian Petroleum Society held an evening session on subsea in Kristiansund.
Staged in February 2014, the menu for this meeting promised presentations, dinner and good conversation fronted by the following assessment:
Progress in subsea technology lays the basis for developing oil and gas fields commercially in ever deeper waters. Norwegian industry currently meets no less than 50 per cent of global demand for subsea equipment for the petroleum sector, and this market could double by 2020. The number of subsea-related companies in Møre og Romsdal is also growing, and many of tomorrow's jobs will precisely be linked to this sector.[REMOVE]Fotnote: https://www.npf.no/nyheter/subsea-helaften-i-kristiansund-article4676-193.html
The petroleum industry had little premonition of how low oil prices were about to sink, and of the scale of the downsizing and company mergers required in order to remain competitive.
In the prevailing optimistic mood, the subsea business was expected to need many new people. Bergen's Western Norway University of Applied Sciences, for instance, set up a separate underwater technology department in Kristiansund.
It was intended to supplement existing engineering courses provided in this field both in Bergen and the offshore centre of Florø in Sogn og Fjordane county.
Educating students in close collaboration with the industry and bases was seen as an advantage. The first student cohort started at the University College Centre in Kristiansund in 2015.
As early as the following year, however, the number of applicants for this course was so low that it became too expensive to accept another cohort.
To make it more attractive, the curriculum has been widened to ocean technology rather than an exclusive concentration on the subsea aspect – a decision not simply snatched out of the blue.[REMOVE]Fotnote: https://www.tk.no/nyheter/kristiansund/skole/hiksu-tilbyr-forkurs-i-julegave/s/5-51-387658
The focus can easily be shifted towards maritime operations, fish farming in closed facilities, renewable energy offshore, shipping, aquaculture and seabed mining as well as oil.[REMOVE]Fotnote: http://panorama.himolde.no/2016/05/12/tar-ikke-opp-subsea-studenter-i-kristiansund/
This shift in the educational sector is typical of the subsea industry in general during 2014-17. After the euphoria of the 2000s, the sector has cooled considerably and shed many jobs.
Faith in the future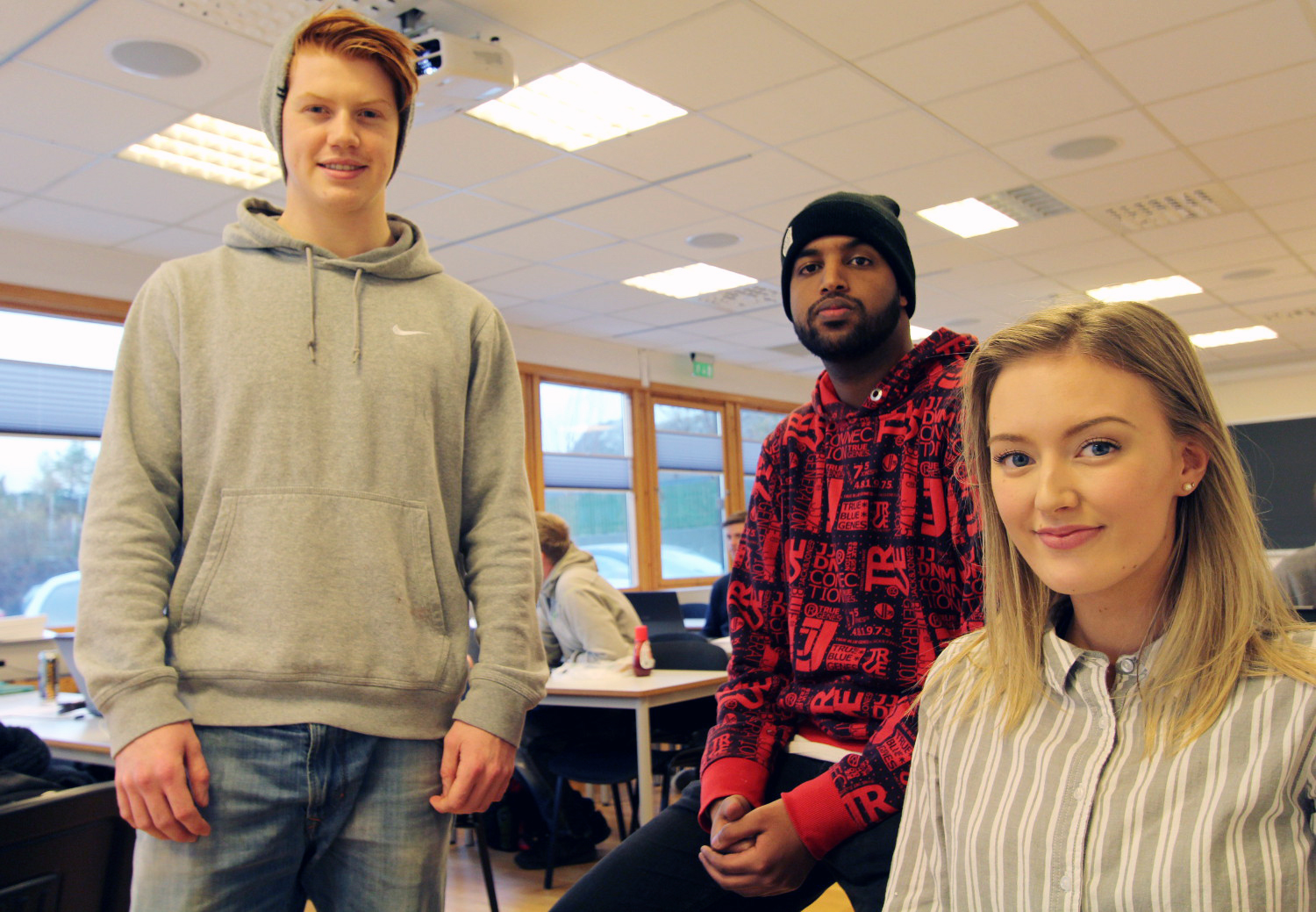 Nevertheless, subsea activity is likely to persist for many years to come. All the existing underwater wells in the Norwegian Sea will need maintenance, for a start.
Moreover, a number of new developments currently in the pipeline will need assistance and competent personnel in the years to come.
Student Serine Åndahl in Kristiansund, who is due to graduate in 2018, puts it this way:
When we're qualified, they're screaming for our expertise. Subsea is also the future. Underwater installations are less vulnerable to wind and weather. They're controlled from land, so you then need engineers rather than people like mechanics, for example.
That view is supported by fellow student Daoud Musagoni. He points out that subsea is an international sector, and says he could well imagine working outside Norway.
And Trygve Maridal Olsen, who has served as an operator at Vestbase, agrees. "Everything's being put underwater now, so this is the future."[REMOVE]Fotnote: http://panorama.himolde.no/2015/11/11/nar-vi-er-ferdige-sa-skriker-de-etter-var-kunnskap
Subsea students Trygve Maridal Olsen (left), Daoud Musagoni and Serine Åndahl take a positive view of the future. Photo: Arild J Waagbø, independent webzine at Molde University College.