An oil platform is not only a workplace composed of steel piping, tanks and process facilities. It also serves as living quarters where many people are in residence for weeks at a time.
To encourage well-being and create a good atmosphere on Draugen, a commitment was made to light, open, well-ordered and aesthetically designed rooms with artworks to please the eye.
Architect Bernt Brekke coordinated work on the decor. Together with the rest of the architectural team, he produced a profile of how the platform should function in terms of decoration and furnishing. This included determining the artistic expression each of the public rooms should convey.
Since Shell wanted to make the maximum possible use of mid-Norwegian sources in building and operating Draugen, the Møre og Romsdal Art Centre (MRKS) was commissioned to manage the decor.
That followed six months of meetings and presentations between Sissel Hagerup Heggdal, head of the MRKS, Shell and Kværner Engineering, which was project manager for the platform topsides.
This was the first time the art centre had been responsible for adorning an offshore platform, and Heggdal and her artists quickly discovered they all had to relate to a new "language" and a world where efficiency and speed were key terms.
Rooms differed greatly in their design and purpose. The artists also had to come up with new techniques to satisfy requirements for evacuation routes and fire regulations. The platform's living quarters included a library, lounge, pool room, gymnasium and mess, which were all to have their own artistic embellishment.
Interiors throughout were decorated in light and pleasant colours, with furniture and fittings of the best design and quality.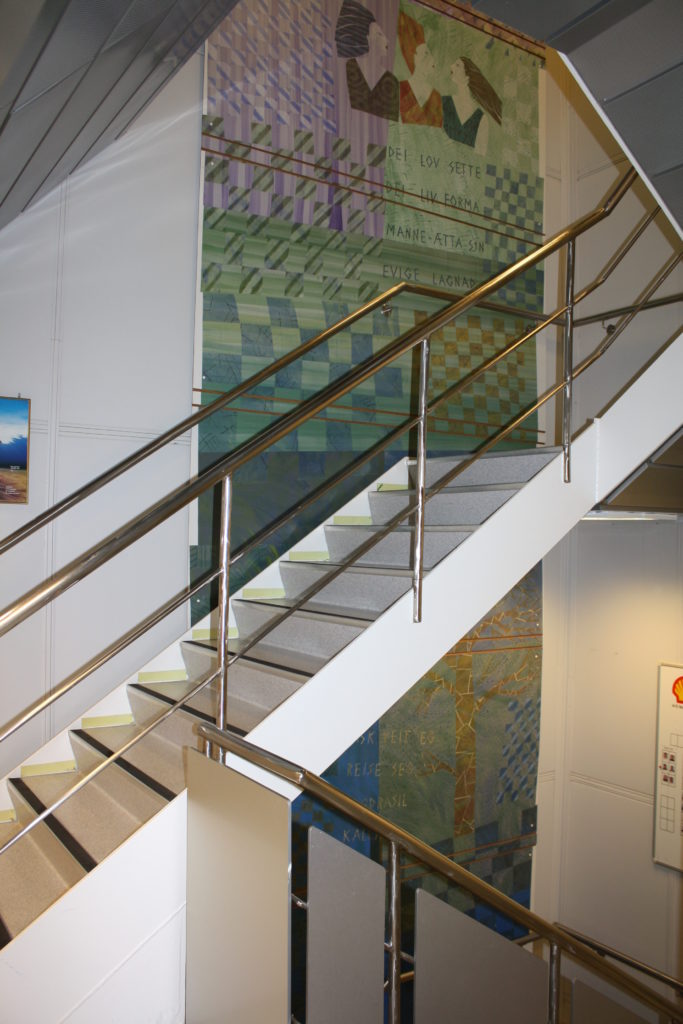 Gjertrud Hals from Aukra and Bergen-based Elly Prestegård won to the two biggest assignments for artistic decoration on the platform. Hals is a fibre artist who has developed her own technique based on paper, print, spray-painting and braiding. She created an artwork tailored to the 21-metre-high stairwell, which extended over five stories. Her starting point was the mediaeval poem Völuspà on the role of the volve (sibyl) and her prophecies in Norse mythology, and she incorporated several of its texts in her piece. The whole creation was encased in laminated plastic before installation.
Prestegård was responsible for the sky lobby, and is thereby the first artist to welcome the platform workers after their helicopter has landed on the platform.
Only one room in the living quarters is open to personnel in work clothes. The "dirty coffee bar" allows them to take a break without having to remove boiler suits and protective footwear. Its furniture is in steel and the interior can be hosed down. Anita Vik Wætten was responsible for its artistic embellishment and her watercolours are laminated onto Formica boards.
Søssa Magnus from Oslo and Notodden's Steinar Klasbu were allowed to exercise their talents in the mess, while Roddy Bell from Bergen chose big human figures in physical activity to decorate the gym.[REMOVE]Fotnote: Sissel Hagerup Heggdal (1993).Kystens flytende gallerier. Årbok for Romsdalsmuseet og Fiskerimuseet på Hjertøya: 148-154.