The seabed installations on Draugen were developed by the subsea department of Kongsberg Våpenfabrikk (KV, later Kongsberg Offshore (KOS) and FMC), aided by an R&D collaboration with Shell. This cooperation was successful for both sides. Shell saved money through intelligent solutions, while Kongsberg's subsea team was able to demonstrate its capability to an international company. Amplified by Shell's big network of contacts, that proved a springboard into becoming a substantial exporter of subsea technology.

Goodwill agreements
Norway's Ministry of Petroleum and Energy took several initiatives towards the offshore sector in 1979-80 aimed at strengthening Norwegian industry. This also benefitted operations at Kongsberg west of Oslo.
First, the government took steps with the fourth licensing round in 1979. Aimed primarily at regional development, these required the oil companies to describe how they could establish activities outside the Stavanger area – which was suffering growth pressures.
This acquired even greater significance after the Storting (parliament) opened the Norwegian continental shelf (NCS) above the 62nd parallel to oil operations in 1980.
Next, foreign oil companies seeking new licence interests on the NCS were required to establish technology joint ventures with Norwegian industry, public bodies and research institutions.
Such goodwill agreements (GWAs), also known as supply and industrial collaboration agreements, would be taken into account when assessing licence applications from foreign companies.
Those willing to invest in research and development (R&D) partnerships would thereby come first in the queue for the award of blocks on the NCS.
The government's aim was to get the foreign companies to conduct R&D in Norway – and thereby use Norwegian suppliers of such services – rather than in their homelands.
GWAs have subsequently been characterised as highly successful. The R&D collaboration they sparked created a golden age for Norwegian scientific institutions and companies.
International firms devoted more than NOK 10 billion to research, product development and expertise enhancement in Norway between 1979 and 1994.
A survey showed that suppliers were more satisfied with the scheme than the oil companies, which regarded it as an imposition on their operations.
It also ceased when the European Economic Area (EEA) agreement with the EU came into force in 1994 and made such special demands on foreign companies illegal.[REMOVE]Fotnote: Wiig, Heidi (1993): Olje mot forskning: en oppgave om goodwillavtalen i norsk forskningspolitikk og teknologioverføring i FoU-samarbeidene, University of Oslo.
Subsea projects
These official stipulations were a crucial reason why Shell entered into a long-term agreement on R&D collaboration with KV's oil department as early as 1979.
Signed by Roar Rose, research head at Shell's Norwegian arm, this deal was the first of its kind to be established by a foreign oil company.
It clearly wanted to demonstrate that the signals from the government were being taken seriously, and to ensure a place at the head of the queue for licence awards.
Shell was the oil company with the greatest knowledge about and longest experience of subsea technology in the world, having worked in this field since the 1960s.
The goal now was to develop, build, test and qualify equipment for use under water, particularly with an eye to bringing Troll on stream.
Discovered in 1979, this North Sea field contained huge quantities of gas and was being operated by Shell in the development phase.[REMOVE]Fotnote: Aftenposten, 5 January 1984, "Elf og KV med teknologiavtale".
Its agreement with KV and the resources this made available meant that the manufacturing and technical personnel in Kongsberg could learn subsea production from the bottom up.[REMOVE]Fotnote: Daling, Unn Kristin, and Erlandsen, Hans Christian (1999): Offshore Kongsberg 25 år, 1974–1999, 69.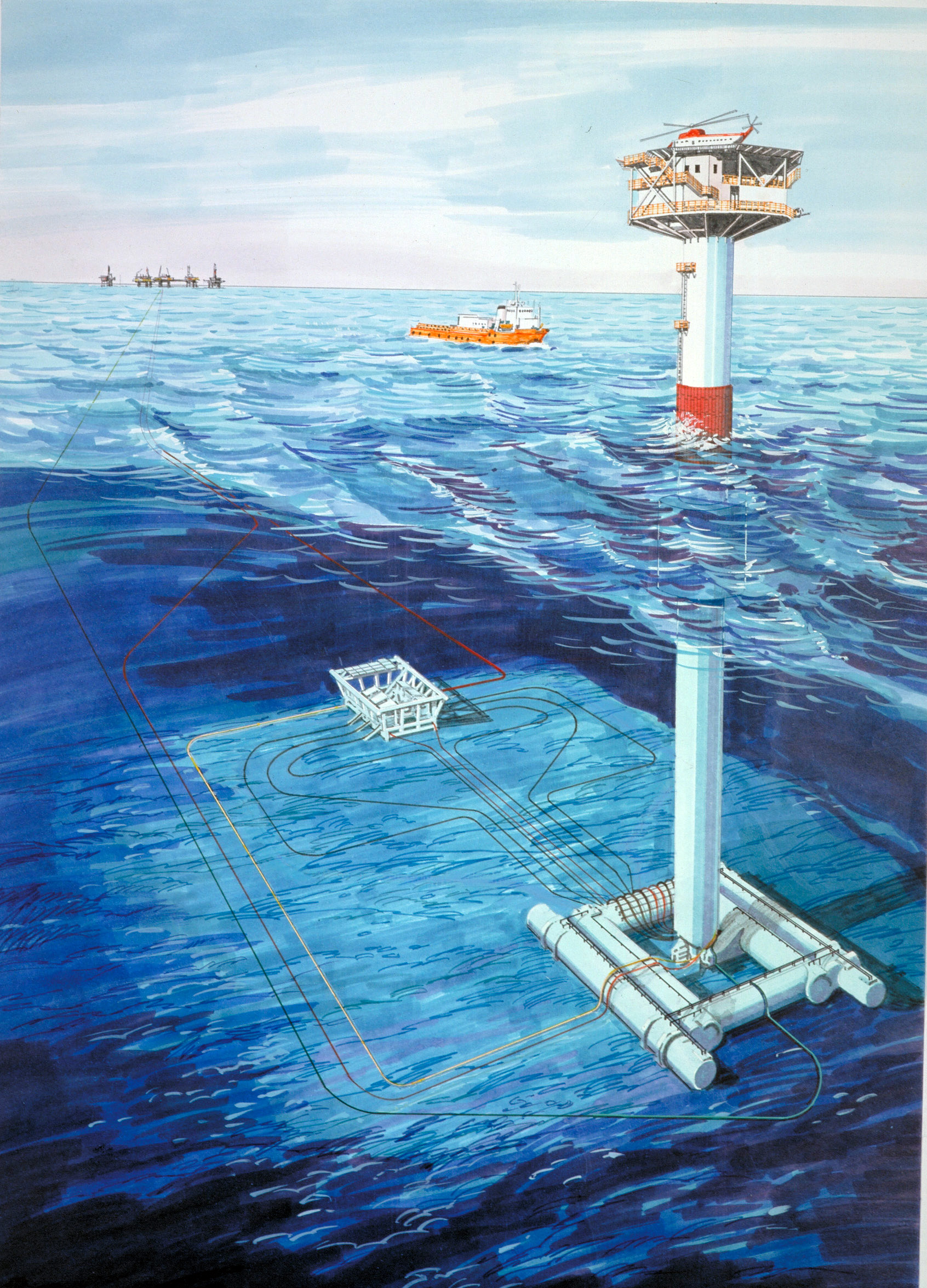 KV also collaborated with Elf, which included delivery of engineering services and two Xmas trees for the test facility in the French oil company's Skuld programme during the early 1980s.
That provided valuable experience, and KV had full freedom to continue using this technology. It also won an order from Elf for six subsea wellheads in a template with a manifold system to produce from North-East Frigg in 1981.[REMOVE]Fotnote: www.kulturminne-frigg.no.
In 1984, Shell involved KV in a forward-looking project to develop a subsea system which could produce oil and gas from fields in 600 metres of water and beyond.
Plans called for this solution to be tied back to a floating platform, with oil and gas being brought ashore by shuttle tankers or pipelines.
The aim was for such a system to be ready for use around 2000. Where KV was concerned, this project meant work worth NOK 20 million and further development of its expertise.[REMOVE]Fotnote: Aftenposten, 27 August 1984, "Oljeproduksjon på 600 meters dyp".
According to Tore Halvorsen, who was then a young and promising engineer in KV's subsea department, the company wanted to apply experience and results achieved jointly with Shell to other projects as well.
KV worked closely with Statoil, for example, and wanted to extend solutions developed for Shell to the Norwegian company as well.
Shell was initially doubtful about this plan, but it proved possible to reach an agreement.[REMOVE]Fotnote: Daling, Unn Kristin, and Erlandsen, Hans Christian (1999): Offshore Kongsberg 25 år, 1974–1999, 69. That was reflected in an advertisement later run by Shell in Norway:
Collaboration with Norwegian industry aims primarily to develop solutions which will be used specifically for Norske Shell's involvement on the continental shelf. Once a project has been fully developed, however, our partners are also free to produce and market the specific results where and how they want.[REMOVE]Fotnote: Advertisement for Shell, about 1991.
Shell was also willing to share its know-how in other ways. In addition to technical and financial contributions to the construction and testing of prototypes by KV's subsea department, an educational programme was developed at Kongsberg's technical college.
With Norske Shell providing lecturers, this course contributed to good recruitment of graduates in subsea-related disciplines.
One of the lecturers, Briton Bob Frith, eventually became Shell's technical director in the Hague with responsibility for every aspect of subsea technology.
He and Halvorsen collaborated well, and a network was created by them and others between KOS – as the department eventually became – and Shell. That helped to bring the Kongsberg technology to the wider world.[REMOVE]Fotnote: Torvald Sande in conversation with Kristin Øye Gjerde and others, 12 May 2016.
The Borgny Dolphin drilling rig struck oil for Shell on 26 June 1984 in Norwegian Sea block 6407/9, awarded in the eighth licensing round only a few months earlier in March.
According to production licence 093, Norske Shell would be operator of this Draugen field with a 30 per cent holding while Statoil had 50 per cent and BP 20 per cent.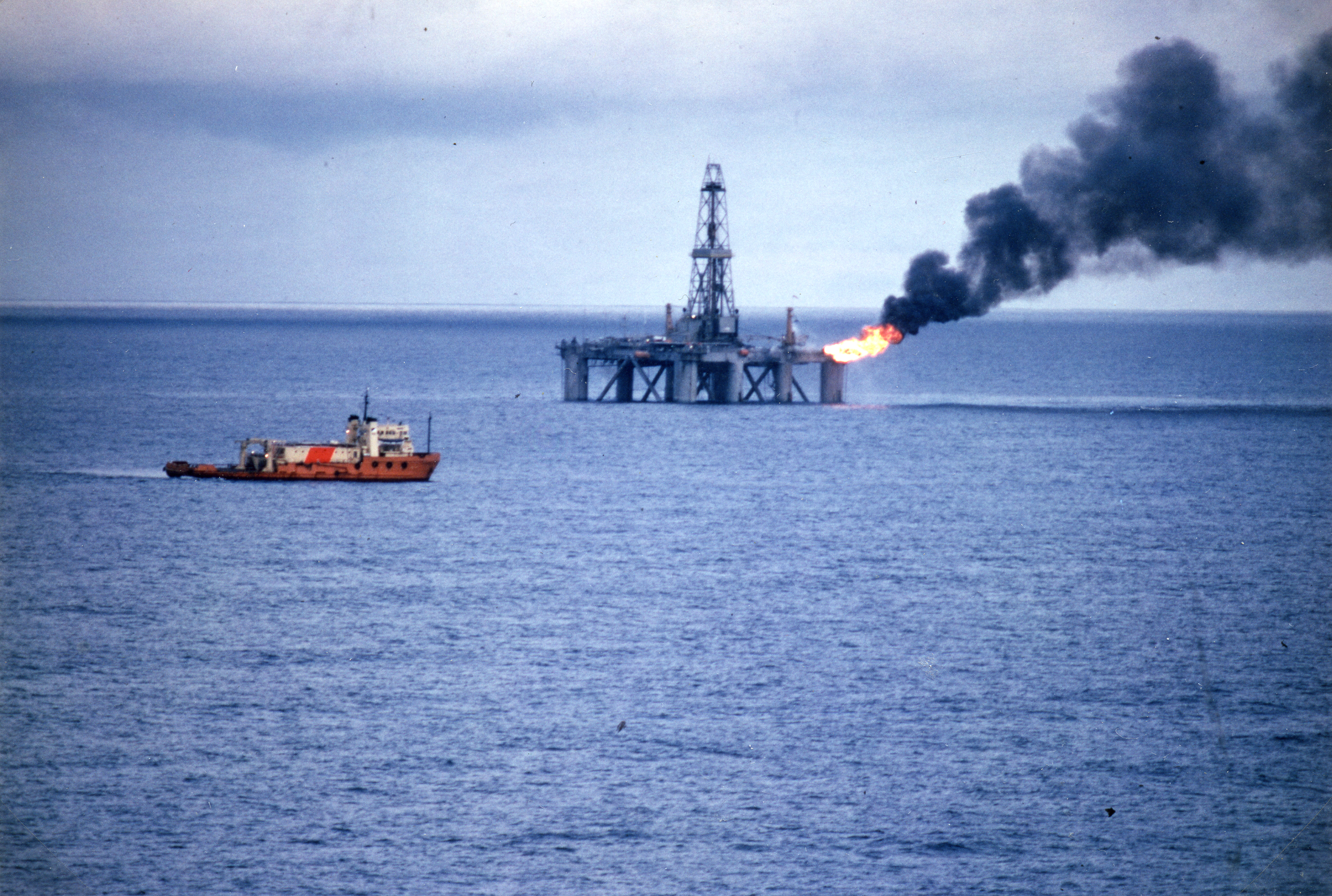 The oil-bearing zone was encountered about 1 650 metres beneath the seabed. Appraisal wells in 1984-85 indicated that Draugen contained an estimated 250 million barrels (40 million cubic metres) of recoverable crude.
Draugen lies in 250-280 metres of water in an area of flat seabed covering no less than 120 square kilometres. That made it hard to optimise recovery with wells drilled from one spot.
Submitted in September 1987, the plan for development and operation (PDO) of Draugen envisaged a concrete platform with a single support shaft (monotower) and four production wells.
Oil would be recovered from a wider area by drilling two subsea producers tied back to the field centre and two water injection wells.[REMOVE]Fotnote: AS Norske Shell (September 1987): Draugen field, plan for development and operation, figure 5.3.5.
No decision had yet been taken on who should build the various components, but KOS quickly indicated its interest where the subsea modules were concerned.
The company worked in 1989-90 on submitting a bid to Shell for a complete subsea production system for both oil and gas. This was based on pumping the unprocessed wellstream to the field centre, where a simple processing took place.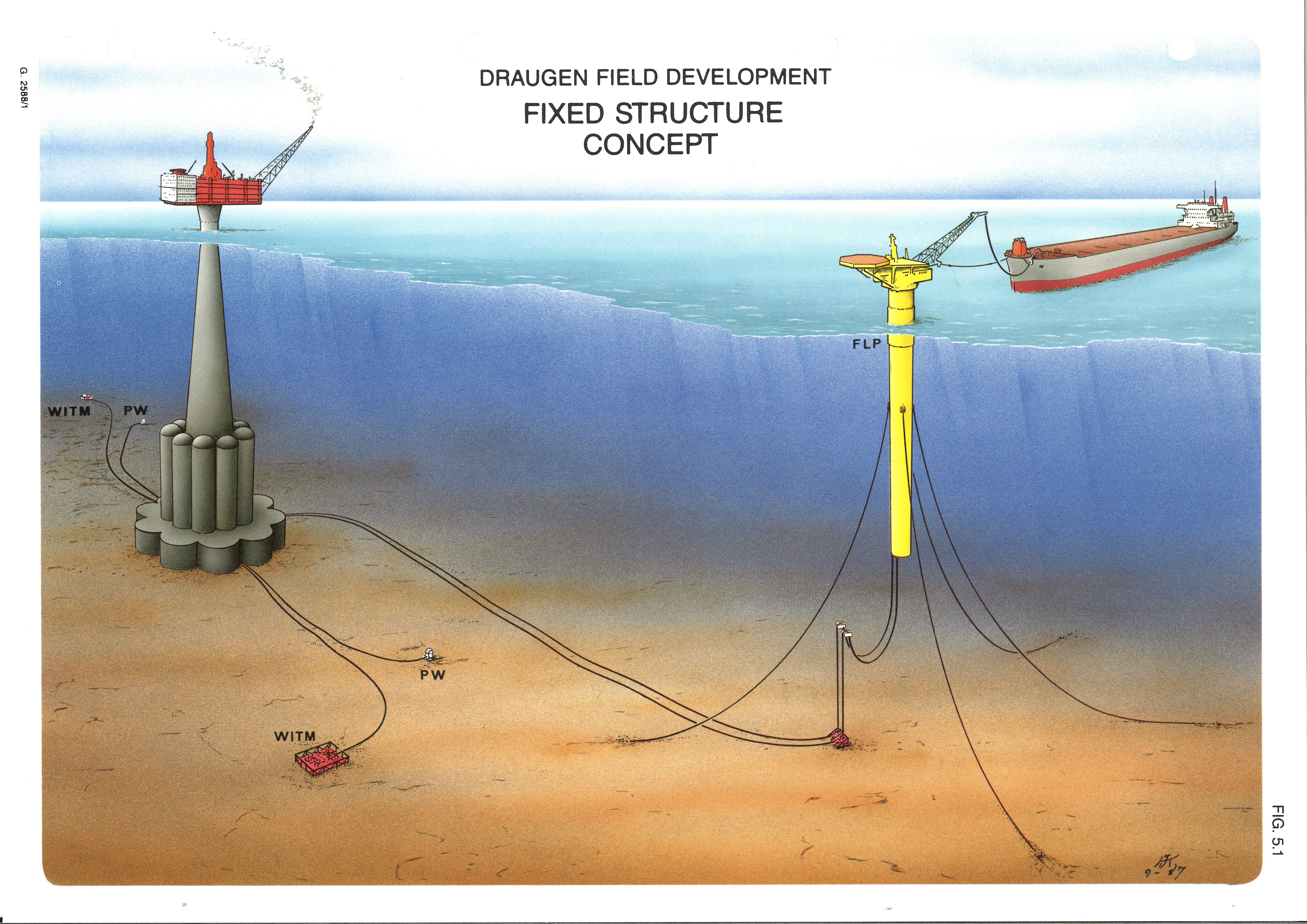 Plans still called for two subsea production wells, one named Rogn and the other designated the southern oil producer (SOP).
In addition came two templates for water injection with a Shell multiphase underwater booster station (Smubs). These templates each had three slots, with three used on the northern and two on the southern.
Eventually, a well was also added for gas injection into the Husmus formation (see separate article on gas exports).
The bid from KOS was dramatically lower than others – NOK 480 million, with the nearest rival's offer NOK 300 million higher. That worried Shell, who called the company in for several days of clarification in Stavanger.
Halvorsen recalls how unusual this was: "Everything was so secret that we participants were ordered not to fly to Stavanger on the same flight, and to register under aliases at the hotel.
"When the meeting began, we were told to remain in Stavanger for as long as it took to clarify whether a contract would be awarded."
To ensure that KOS had not got its bid completely wrong, Shell wanted to conduct a detailed review. The two sides eventually reached agreement, and the contract was placed in 1990.[REMOVE]Fotnote: Daling, Unn Kristin, and Erlandsen, Hans Christian (1999): Offshore Kongsberg 25 år, 1974–1999, 149-150.
The most important reason why KOS could make such a low offer was that specifications for the equipment required on Draugen were prepared at the same time as the company was drawing up a similar bid for Statoil's Statfjord satellites project.
KOS saw an opportunity to win both contracts, since it could standardise to some extent. The technical solutions were presented to Statoil and Shell without them being aware of each other.
The results were satisfactory for everyone concerned, with Shell securing subsea installations from KOS at almost half the price offered by European competitors.[REMOVE]Fotnote: Teknisk Ukeblad, 19 March 2003, "Industripolitikk – samspill eller kamp?"
Subsea expert Hans Jørgen Lindland has observed:
The subsea installations on Statfjord, of course, were actually very similar to Shell's architecture on Draugen. Shell first awarded the world's largest subsea contract, worth NOK 900 million, in 1989. Then Statoil placed the new contract for the Statfjord satellites, which thereby became the world's largest at NOK 1.3 billion.[REMOVE]Fotnote: Hans Jørgen Lindland in conversation with Kristin Øye Gjerde and Arnfinn Nergaard, 1 December 2016.
KOS secured the job of turnkey supplier for the subsea modules on Draugen under an engineering, procurement and construction (EPC) contract.
It thereby had control over design, manufacturing of the subsea equipment both in its own facilities and at sub-contractors, and installation on the field.
As mentioned above, this was the biggest subsea EPC contract awarded in Norway at that time. That fitted well with industrial plans at KOS and helped to boost its reputation in the market.[REMOVE]Fotnote: Daling, Unn Kristin, and Erlandsen, Hans Christian (1999): Offshore Kongsberg 25 år, 1974–1999, 150.
KOS was taken over in its entirety on 30 June 1993 by the American FMC Corporation through its FMC Norway AS subsidiary. Renamed FMC Kongsberg, it made great progress and secured 40 per cent of the global subsea market during the 1990s.
The Draugen project bore fruit for a number of other companies. The work included nine subsea trees and seabed templates with manifold and control distribution system. Fabricated at Dunfermline in the UK under FMC's control, the trees had electrohydraulic controls.
All the subsea equipment was designed for diverless installation, operation and maintenance, with great emphasis therefore placed on standardisation. Components had to be simple to connect, reducing the number of intervention tools needed.
Comex Norge had the contract to install the two templates, and used the MSV Amethyst crane ship for this job. The templates were fabricated at the Kaldnes de Groot yard in Tønsberg south of Oslo as subcontractor to KOS.[REMOVE]Fotnote: Aftenposten, 18 February 1992, "Draugenkontrakt til Comex".
Framo and the world's first multiphase pump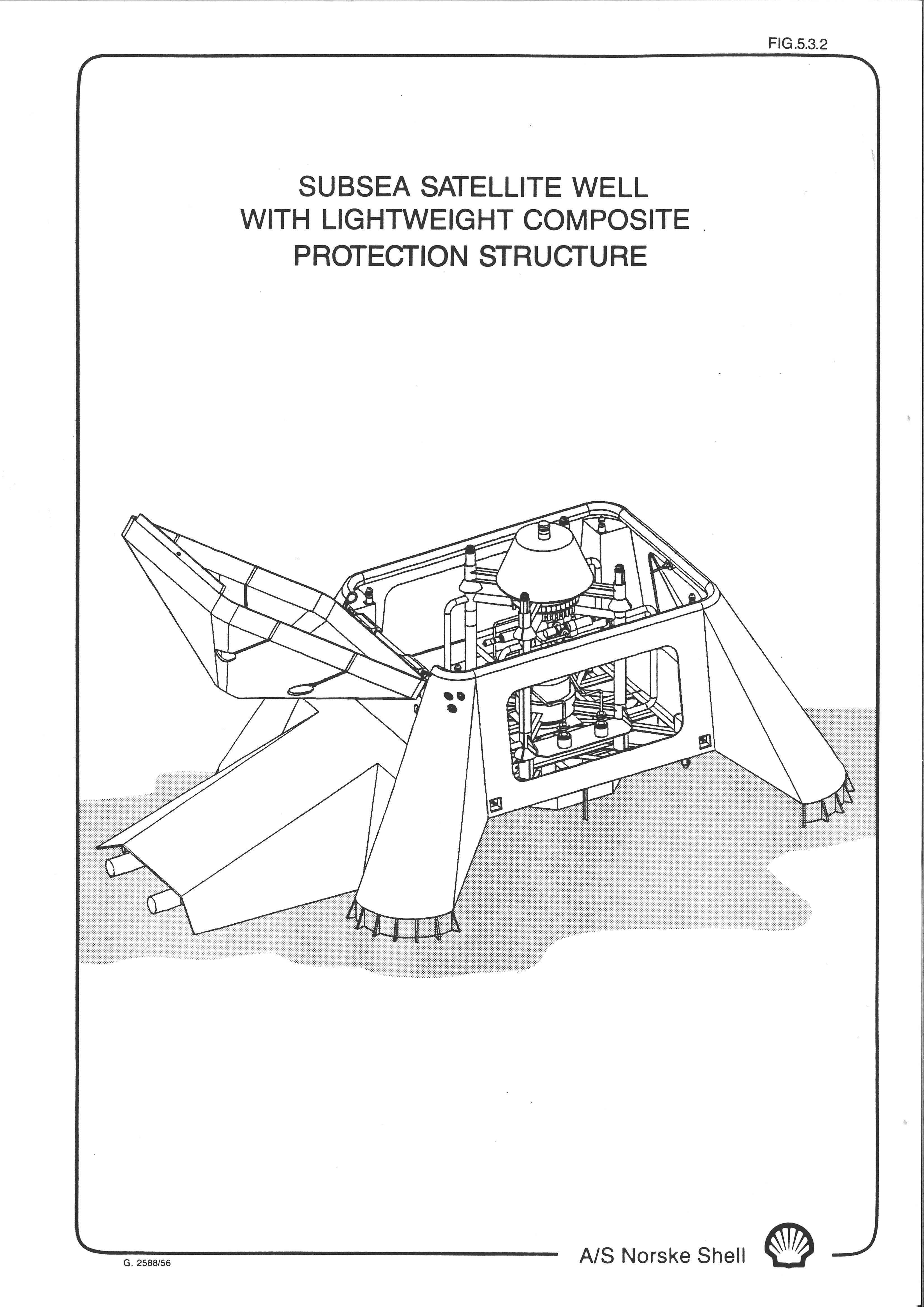 The world's first underwater pump capable of driving an unprocessed multiphase wellstream mixing oil, gas, water and sand in the same pipeline was installed on Draugen.
This aimed to overcome one of the challenges facing subsea oil and gas production ­– the distance output can travel between well and platform is restricted by pressure and flow conditions. The problem increases as reservoir pressure declines over time.[REMOVE]Fotnote: Bergens Tidende, 1 April 1992, "Mohnpumper gir ny oljealder".
So Framo Engineering's technical innovation was installed to maintain pressure in the reservoir and thereby boost recovery. It was placed without diver assistance in 275 metres of water on a subsea well six kilometres from the platform.
Shell was the first customer for this new concept for water injection from the company, which was spun off in the mid-1980s from the development department at pump specialist Frank Mohn.
With Martin Sigmundstad as its first chief executive, Framo Engineering began working with Norske Shell as early as 1986 to develop various concepts for pumping multiphase wellstreams.
This groundbreaking Smubs solution was tested for the conditions prevailing on Draugen in Framo's test facility at Fusa outside Bergen.
Performance trials were also conducted at Frank Mohn Flatøy's test facility for multiphase pumps. System integration of the device was a technological breakthrough in Norway and worldwide.
NOK 30 million had been devoted to developing the device by 1990, while the contract for the Draugen pump system was worth NOK 15.6 million.
The pump was hydraulically driven by the pressure of the water passing through a hydroturbine before being conducted to the injection well.
This concept is based on maintaining a high rotational speed to generate pressure through the use of contra-rotating axial (CRA) technology.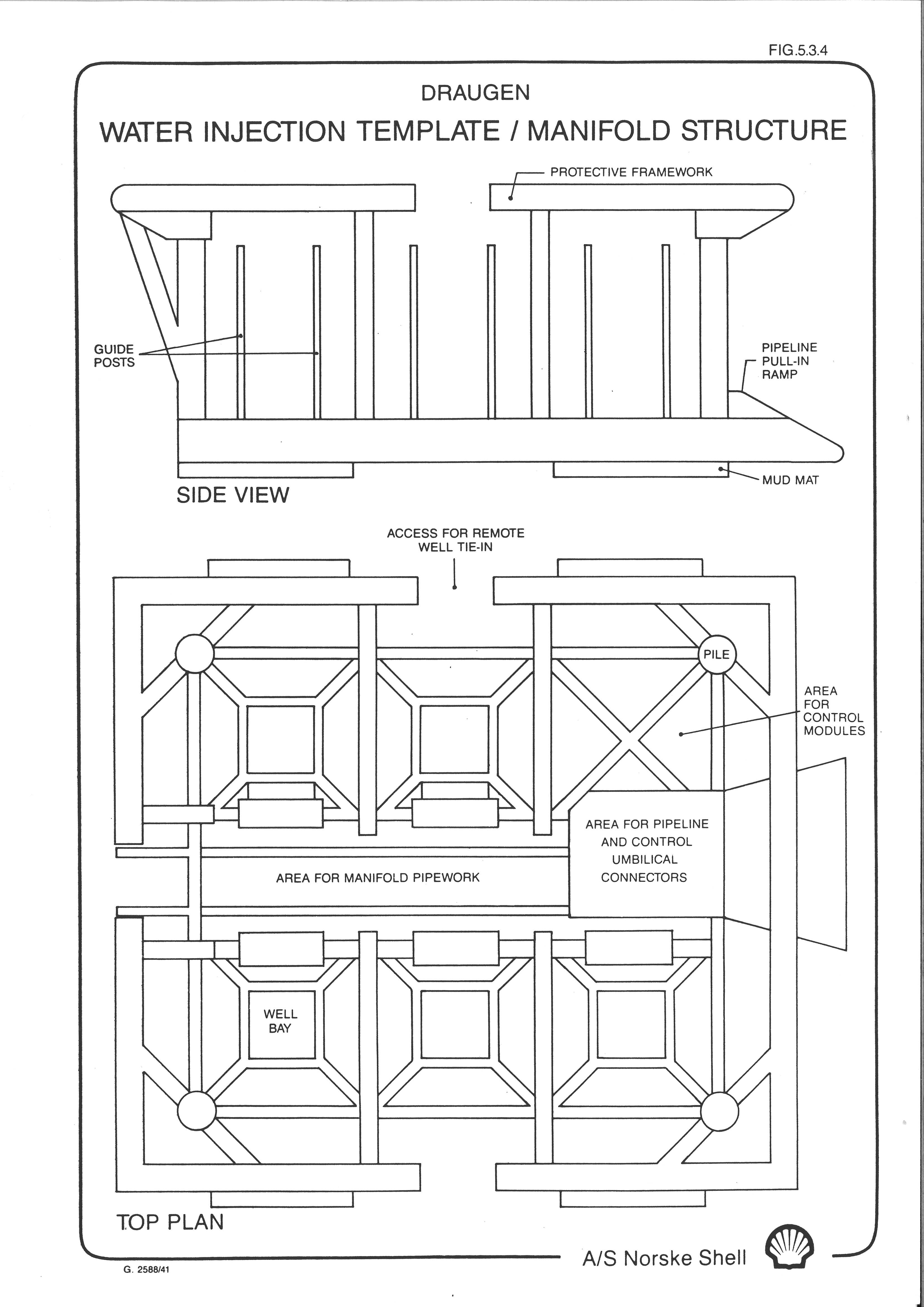 Known as the high speed approach, that allows the wellstream to be compressed and pumped without having to separate its components.
The same outcome was accomplished in traditional pumps over several stages with more equipment. Framo's pump needed less space and was lighter than conventional devices.
Statoil, Mobil, Total and the French IFP petroleum institute contributed financially to a further development of the multiphase pump.
Tore Torp from Statoil's research centre in Trondheim said that this product created "the basis for a completely new way of thinking over oil production in the North Sea.
"Fields which are too small to warrant a platform development could now be relevant with subsea solutions which greatly reduce the investment."
Speeding up a wellstream creates an underpressure on the pump's suction side towards the reservoir, which means the oil flows up more readily and the recovery factor increase.
Statoil was confident many new fields would be developed with subsea solutions now that this technology was available.[REMOVE]Fotnote: Dagens Næringsliv, 31 August 1990, "Draugen får verdens første flerfase pumpe".
Around 1990, Smubs was restricted to transport over a maximum distance of 50 kilometres. According to Shell communications manager Einar Knudsen, the goal was to carry oil and gas direct from the wellhead to a processing plant on land.
Continued research to extend the transport range was a goal not only for Shell but also for a number of oil companies who saw opportunities to save money – not least by direct landing.
Nevertheless, the Framo pump failed to live entirely up to expectations. It unfortunately transpired that the power needed reduced water injection and thereby oil recovery. The pump therefore remained in operation for no more than six months.
Shell nevertheless contributed to marketing the multiphase device on the world market. As mentioned above, Frith made a big personal contribution to establishing a KOS-Shell network.[REMOVE]Fotnote: Torvald Sande in conversation with Kristin Øye Gjerde and others, 12 May 2016.
The oil major also helped to market Framo's pump by including it in the Shell International vendors list, exchanging press releases and so forth.
This created interest for the product in the USA. Esso, Texaco and Agip also used equipment from Framo and helped to spread sales of multiphase pumps to the UK, Australia and Malaysia.[REMOVE]Fotnote: Norsk Oljerevy no 12, 1990, "Esso/Shell klarer det: Hjelper industrien ut".