Subsea wells extend producing life
The plan for development and operation (PDO) of Draugen submitted to the Storting (parliament) in 1988 gave the field a producing life until 2012 and a recovery factor of 37 per cent. When it came on stream in 1993, however, operator Shell was already working to both extend and increase output.
By 2017, Draugen's producing life had been extended to 9 March 2024 and its expected recovery factor was put at 75 per cent. These forecasts have changed gradually, as technological advances in the oil industry permitted production improvements.
But the reservoir has nevertheless yielded surprises along the way.
Reserves up, producing life and recovery factor extended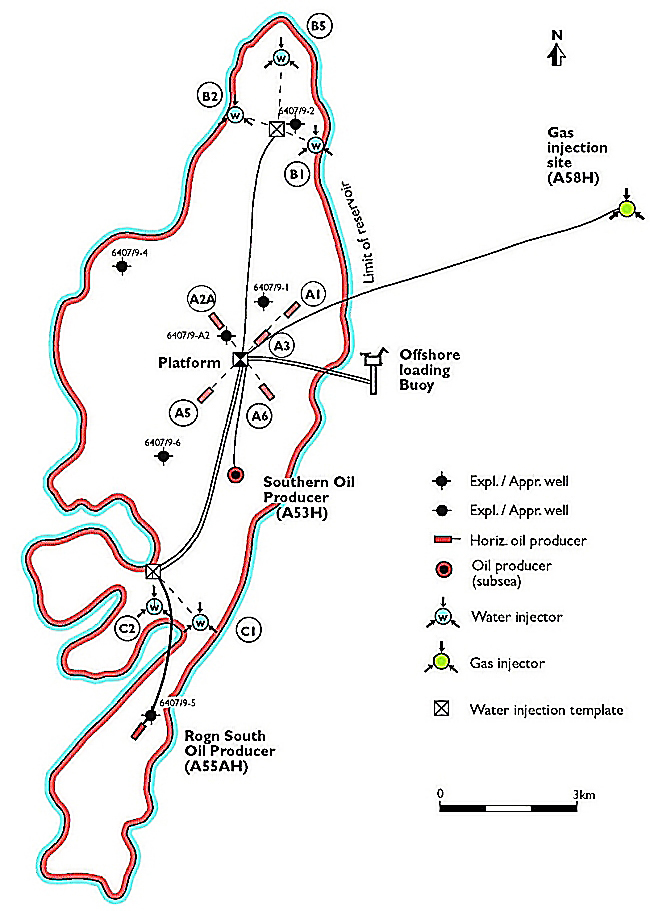 Shell could report in 2001 that recoverable reserves in Draugen were larger than earlier thought.
Use of four-dimensional seismic surveys improved geological understanding of the reservoir, which was also behaving better than expected. A number of the wells were producing very well.
Draugen's producing life was extended to 2016 and the expected recovery factor increased to 67 per cent. In the longer term, the goal was to recover at least 70 per cent – assuming that the field remained commercial beyond 2016.[

REMOVE

]Fotnote: Adresseavisen, 5 February 2001, "Draugen leverer olje helt til 2016".
New subsea wells in south and west
To increase production from and producing life for the Draugen area even further, Shell now planned development of the Garn West and Rogn South subsea wells.
These would be tied back to the Draugen platform and increase reserves by about 81 million barrels or 13 million standard cubic metres (scm) of oil. That was nine per cent of the field's 144.2 million scm in recoverable oil.[REMOVE]Fotnote: http://factpages.npd.no/factpages, 26 October 2017.
This decision built on rapid improvements during the 1990s in the methods for tying subsea wells back to fixed and floating offshore installations.
Discoveries too small to justify their own process platform could use relatively cheap, standardised subsea systems tied back to a fixed platform, a floater or even land. And unprocessed wellstreams could be sent over ever longer distances with advanced multiphase flow technology.
Development of small satellite fields had become a profitable business, which proved a boon for oil companies around 2000 when oil prices slumped towards USD 10 per barrel. An advantage of subsea wells was that they were quick to install and start up.
Located at the westernmost edge of the Draugen area, Garn West was the first to be tapped with the aid of two seabed wells tied back by a 3.3-kilometre pipeline in the summer of 2001.[REMOVE]Fotnote: Adresseavisen, 5 February 2001, "Draugen leverer olje helt til 2016".
The Rogn South development was approved in the spring of that year, and Transocean Winner drilled and installed two subsea wells in 2002 so that they could come on stream the following January. Their wellstreams are routed via Garn West (see map).
These satellites helped to increase and extend oil production from Draugen – which was advantageous as oil prices staged yet another recovery after 2002.
Norske Shell could report in 2001 that it was investing NOK 1.5 billion in developing Garn West and Rogn South.[REMOVE]Fotnote: Adresseavisen, 30 May 2001, "Draugen større". Among those winning contracts were Kværner Oilfield Products AS at Lysaker outside Oslo, which delivered the subsea systems.[REMOVE]Fotnote: NTB, 6 June 2000, "Draugen utvides for 130 millioner kroner".
The Kristiansund business community also did well, with Aker Møre Montasje and Vestbase – the biggest local suppliers – securing work in the order of NOK 70-90 million.
Coflexip Stena Offshore won the pipelaying job, while the new water treatment system on Draugen was produced by Aker Offshore Partner at Stord.[REMOVE]Fotnote: Adresseavisen, 30 May 2001, "Draugen større".
Water, water and more water
Production from Draugen was highly promising in 2001. It was at its highest-ever level of 12.87 million scm of oil equivalent (oe) per year – almost too good to be true.
This annual output of oil, gas and condensate equalled as much as the total expected recovery from Garn West and Rogn South combined.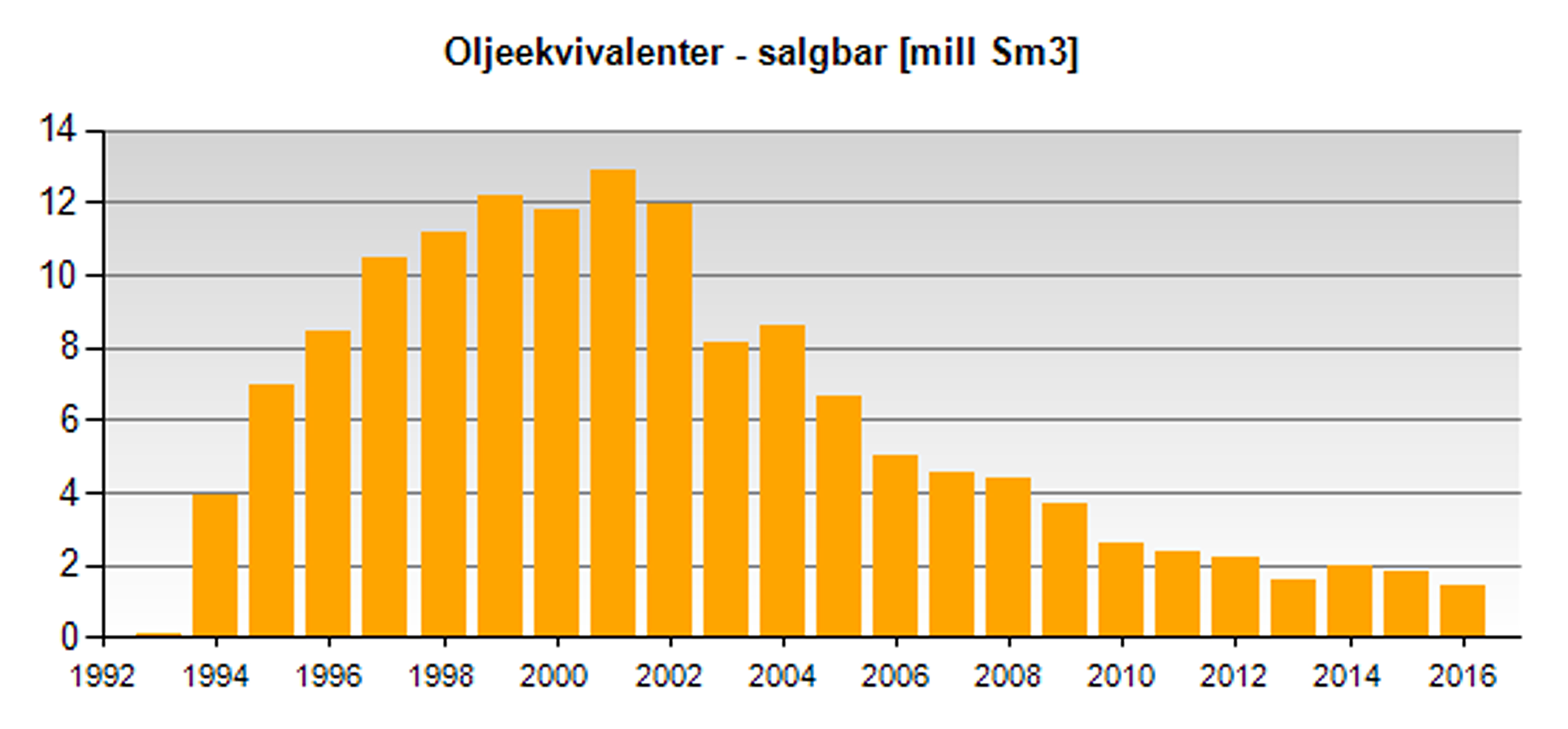 The field nevertheless showed some signs of production weaknesses. As the oil was produced, the level of water in the reservoir rose and its proportion of output (or cut) increased. In June 2002, Shell reported that the water cut had risen to 35 000 cubic metres per month – a trebling from six months earlier.
Well A1, which only contained 10 per cent water in its oil output at 30 March 2002, increased this cut to 30 per cent over a three-month period.
With a record output of 77 000 barrels of oil per day (bod) making it the best of Draugen's wells, A4 had to be shut down because of the salts being precipitated. These threatened to block the pores in its walls – a sign that the area being produced was approaching depletion. Production from the field was nevertheless not particularly reduced, since the other wells were increasing their output.[REMOVE]Fotnote: Adresseavisen, 11 June 2002, "…mens vannet stiger i Draugen".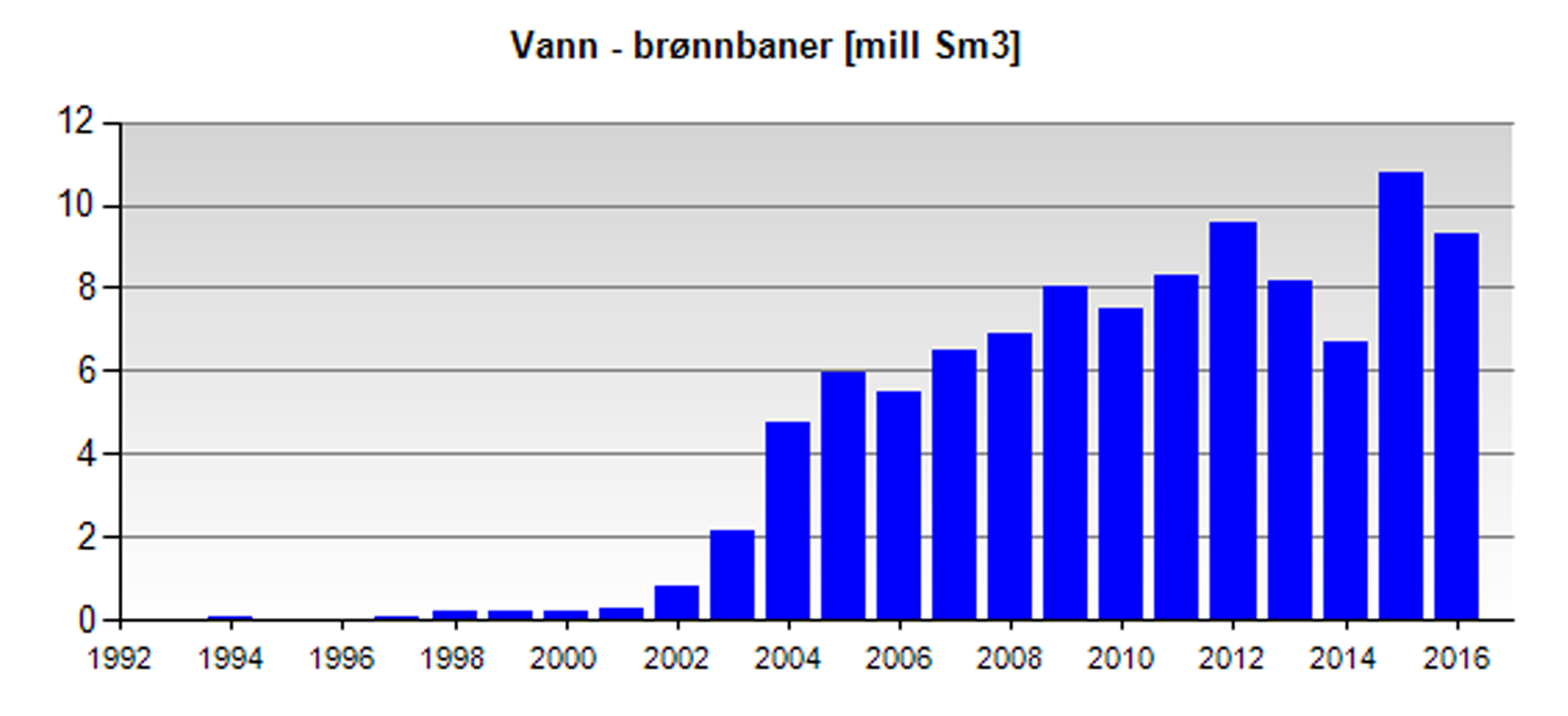 All the same, it transpired over the years which followed that the amount of oil and gas produced went down as the water cut rose.
By 2010, production had fallen 20 per cent or 2.6 million scm oe from the peak year of 2001 and water output was approaching eight million scm.
New boost
Something had to be done if Draugen was to stay on stream. As part of Shell's environmental improvement programme, a project for produced water and reinjection on the field had been launched. The reinjected fluid would be used for pressure support.
Advanced new seismic surveys identified a number of oil pockets in the area. That led in 2012 to a plan for drilling a further four new wells.
These would help to produce fuel gas for power generation on the platform, operations head Ervik explained.[REMOVE]Fotnote: Tidens Krav, 3 February 2012, "Langt liv for Draugen". The electricity was intended partly to drive a new pressure support pump.
Shell contracted with Seadrill to use West Navigator for the subsea wells in this Draugen infill drilling programme to help boost oil production from the field.
These wells were due to come on stream at the same time as a subsea boosting pump was installed in 2017.[REMOVE]Fotnote: http://petro.no/far-bruke-havbunnsbronn-pa-draugen/2235 05.09.2014. The project also covered a subsea tee manifold on Rogn South.
In addition came 19 kilometres of new production flowline, 11 kilometres of umbilical cables and 52 tie-ins. See the next figure.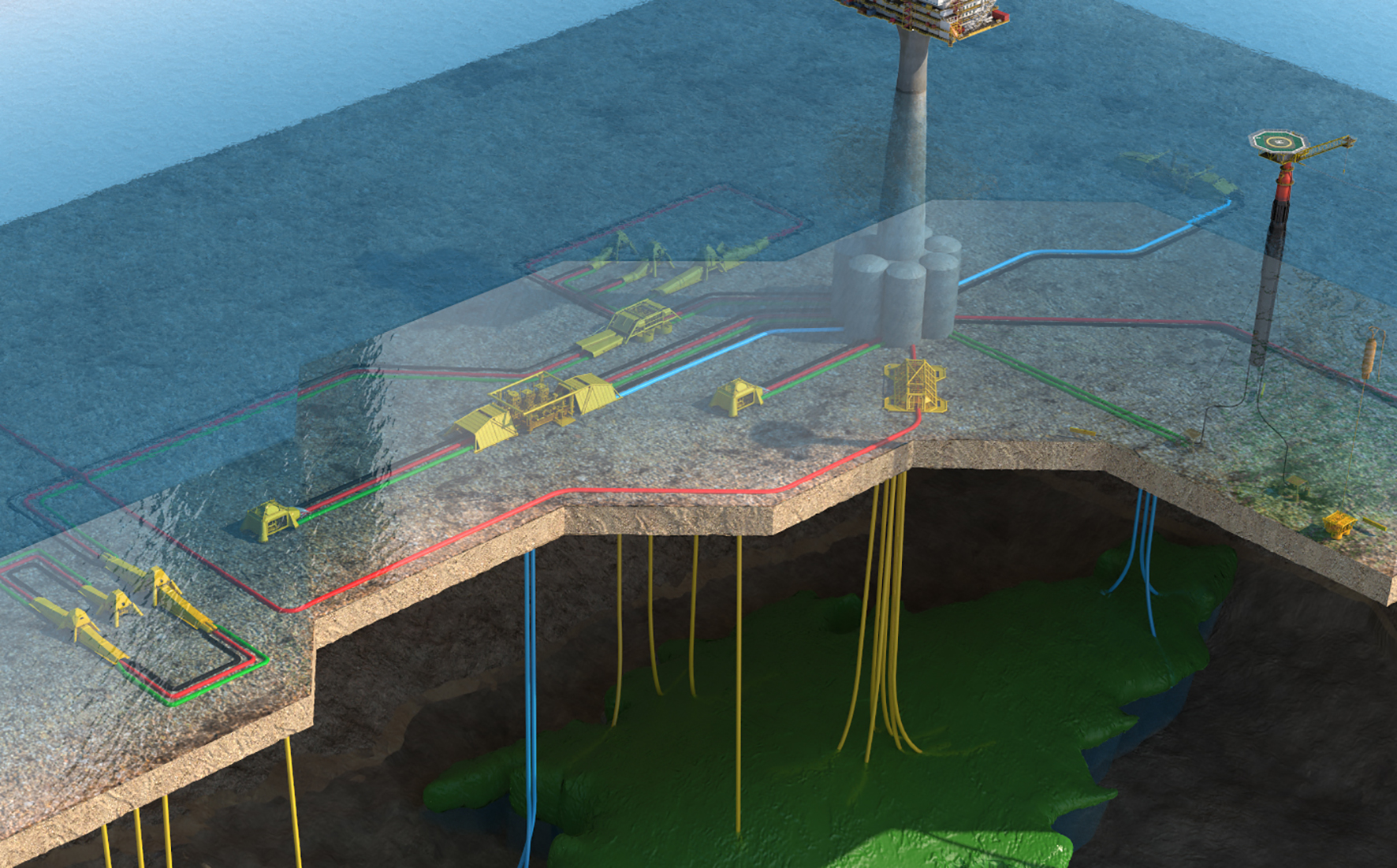 Installing a boosting pump system in the pipeline flow from the subsea templates was expected to improve recovery, and initially involved installing a protective structure.
This was followed a manifold and two 3 000 hp pumps operating in parallel. The latter units are not especially large.
Each compressor has two vertically positioned motors which rotate in separate directions to increase pressure in the wellstream from the pump up to the platform's process plant.
The pumps create a vacuum in the direction of the reservoir, which means in theory that the formation will release more oil (and water).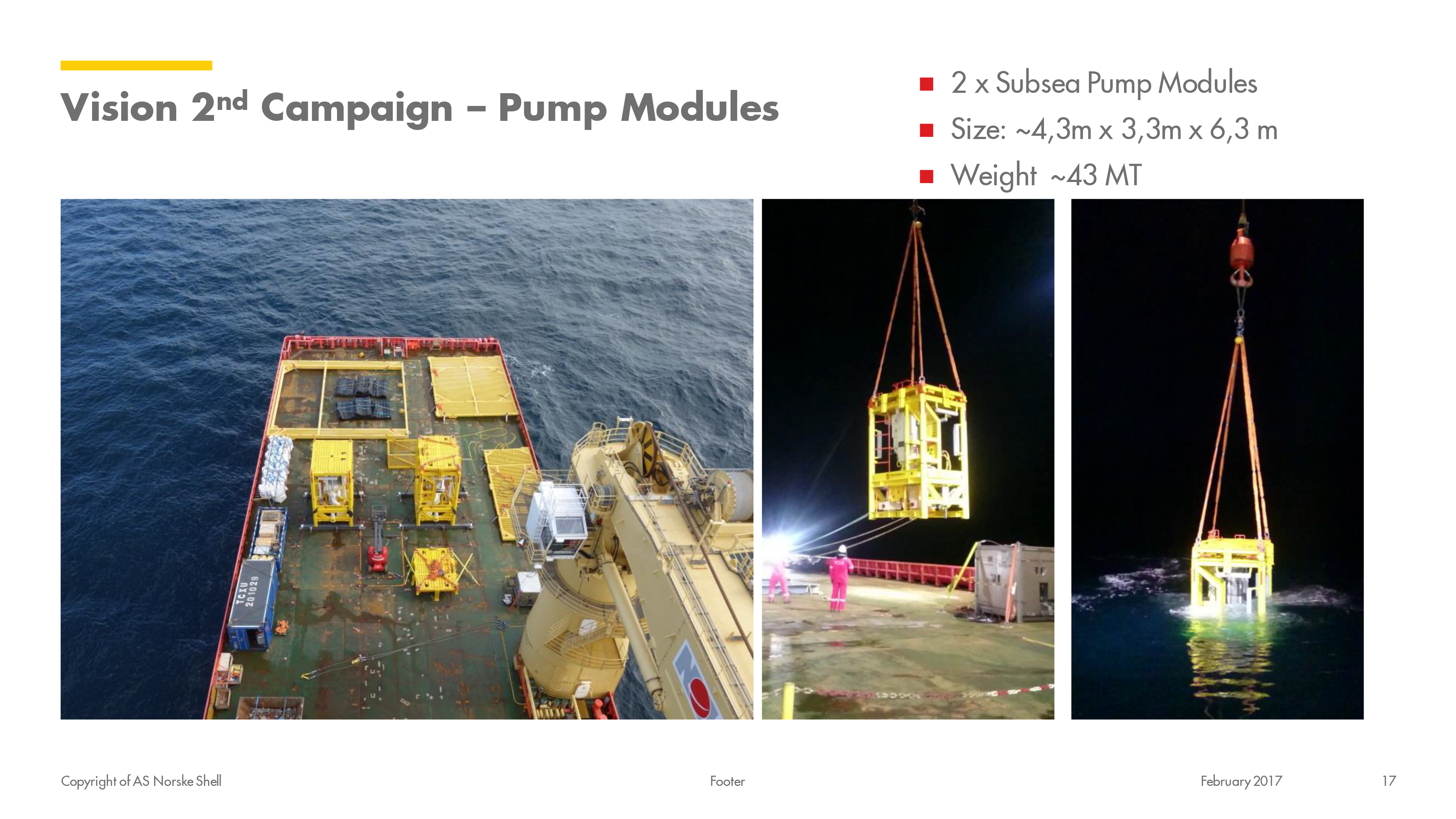 Output in 2016 was 1.35 million scm oe, a slight decline from 1.72 million in 2015. But oil production from Draugen had visibly increased in 2017 as a result of the new pump system.
This successful result means that Shell now intends to try out similar technology on other fields elsewhere around the world.