Raigad on India's west coast lies a long way from the Halten Bank in the Norwegian Sea. But this hilly district, about midway between Mumbai and Poona, is where Bhorkas stands.
That rural community earned the nickname of "Draugen Village" after personnel on the field began collecting funds in 2001 to build homes there and secure education for the local children. The village is located deep in the Indian countryside, and its residents lived in primitive mud huts. During the rainy season, water penetrated through leaky walls and roofs.
Their walls simply dissolved after weeks of downpour, so the villagers had to spend time on repairs which reduced their opportunities for taking paid work.
Shell employees on Draugen wanted to build brick houses for families in Bhorkas, and ended up changing the lives of 300 villagers and boosting long-distance adoption of Indian children.
Aid
Lima 2000 was the first aid project launched by Draugen personnel and focused on Villa Maria. This house on the outskirts of the Peruvian capital provided daily training for handicapped children. It was in a very poor condition, and the platform workers contributed funds towards its restoration, together with the Norwegian and Peruvian Red Cross. The neighbourhood eventually turned out to be in decline, with growing crime, increasing refuse problems and terrible sanitation conditions. It ultimate proved impossible to continue the work. The children were moved to a local hospital for treatment and follow-up, and Villa Maria was closed down.
But the steering committee for Lima 2000 wanted to redirect employee enthusiasm to a new aid project run by Norske Shell staff in Kristiansund. The Indian scheme got the biggest support. This quite simply involved collecting money from Draugen workers to build brick houses for people in a small village. Colleagues were fired by the idea, and fund-raising began.
Deduction
To contribute, many of the Draugen workforce had a fixed deduction taken from their regular pay and earmarked for the village project.
Lotteries, auctions and bingo evenings were also held on the platform. Prizes were largely items the personnel themselves had made. In addition to helping somebody in need, Draugen Village was a collective project which created a positive sense of community offshore. Some of the employees also devoted their safety bonus to drilling for water in Bhorkas. A total of NOK 1 038 000 was raised by these various means.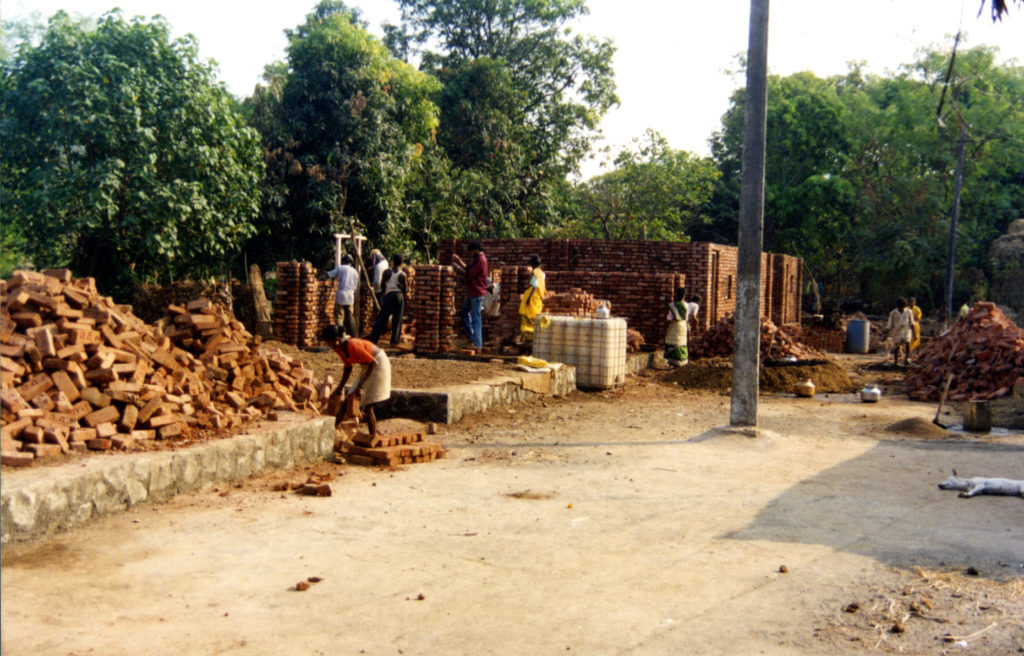 The money was spent on materials, while the villagers themselves helped with the building. Old wood and straw huts were replaced by brick houses each measuring about 36 square metres. They contained a combined living room and bedroom where the whole family slept, a kitchen with smokeless cooker and a laundry room.
All the 72 homes built had watertight roofs and solid walls. Their foundations were also so high that rainwater, snakes and other pests were kept out.
Status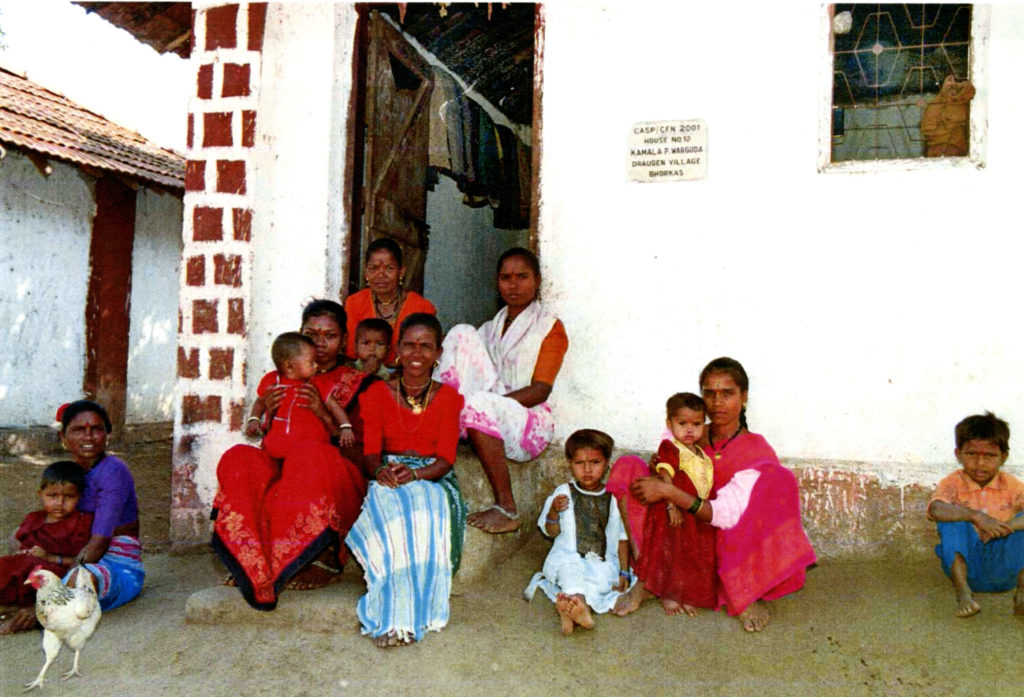 The Draugen Village project gave the village women a new status, since they were the formal owners of the homes and got their name on the signs outside them. Neither their husband nor their in-laws could now throw them out if they wanted a divorce or their spouse died, and the property could not be sold without their consent.
This was unusual in India, particularly in rural areas, where illiteracy and superstition created and still create obstacles to the development of girls.
Follow-up
It was important for the Draugen workers to follow up that the money they were raising reached the intended recipients. So funds were only sent to build 10-15 houses at a time. The next payment was only dispatched after they had received photographs and other documentation that these homes had been completed. That created even greater closeness to the project.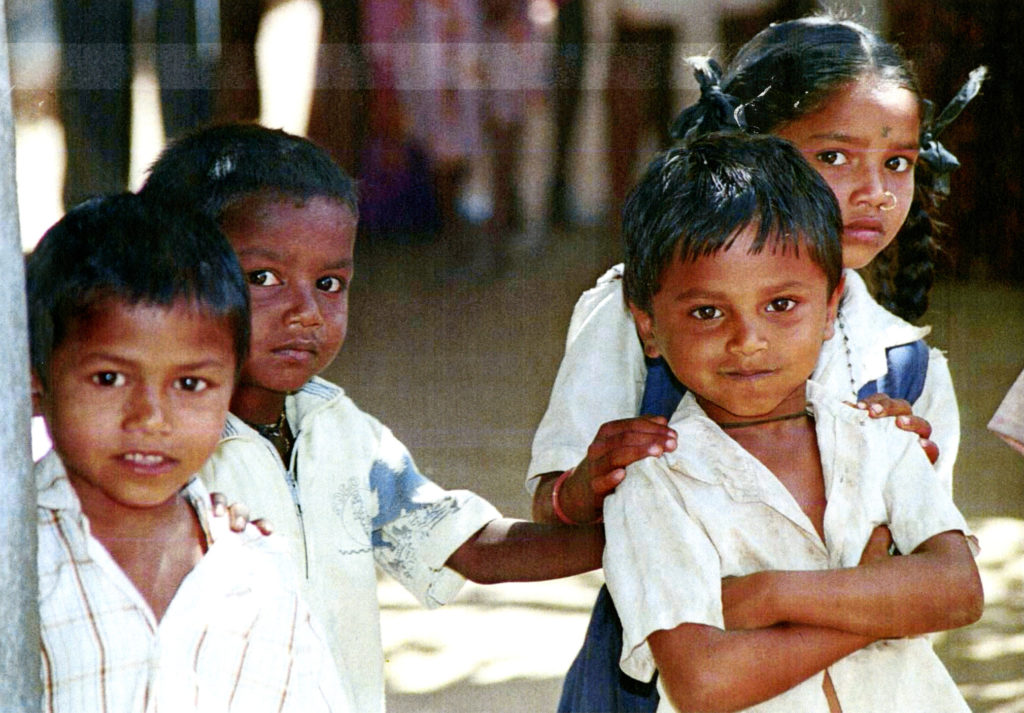 As well as financing the building programme, Draugen personnel were also eager fosterers for village children in cooperation with the Foundation for Adopted Childrens Future (FAF). Founded in 1991, this Norwegian humanitarian organisation changed its name in 2013 to India's Children. It works to improve conditions for poor youngsters in the sub-continent through education and health provision.
FAF collaborated in turn with its Indian counterpart, Children's Future India (CFI). This was a secular, non-political, idealistic voluntary organisation working to promote the welfare of underprivileged children, their families and their local communities in India's slums and countryside.
The Draugen Village project also cooperated with other non-governmental organisations (NGOs) such as the Community Aid and Sponsorship Programme (Casp). A Casp representative visited Bhorkas each week to report on progress for the adopted children and to inspect the building work.
Sustainable development
The project was fully in line with parent company Royal Dutch Shell's philosophy of sustainable development and community. Project Better World (PBW), a voluntary organisation run by Shell employees and contractors, was set up at the time.[REMOVE]Fotnote: Brochure, PBW National Teams, What is wrong with these pictures?
It was conceived in Amsterdam in April 1998, when a discussion on sustainable development led to the implementation of Shell's core purpose of helping people to build a better world. This aimed to give the group's commitment in the area a tangible form which was visible to all its employees and to the world at large. The idea was to make it possible for employees to offer their skills to a voluntary body. Royal Dutch Shell quickly saw the benefits this could also have for employees, the group and society as a whole.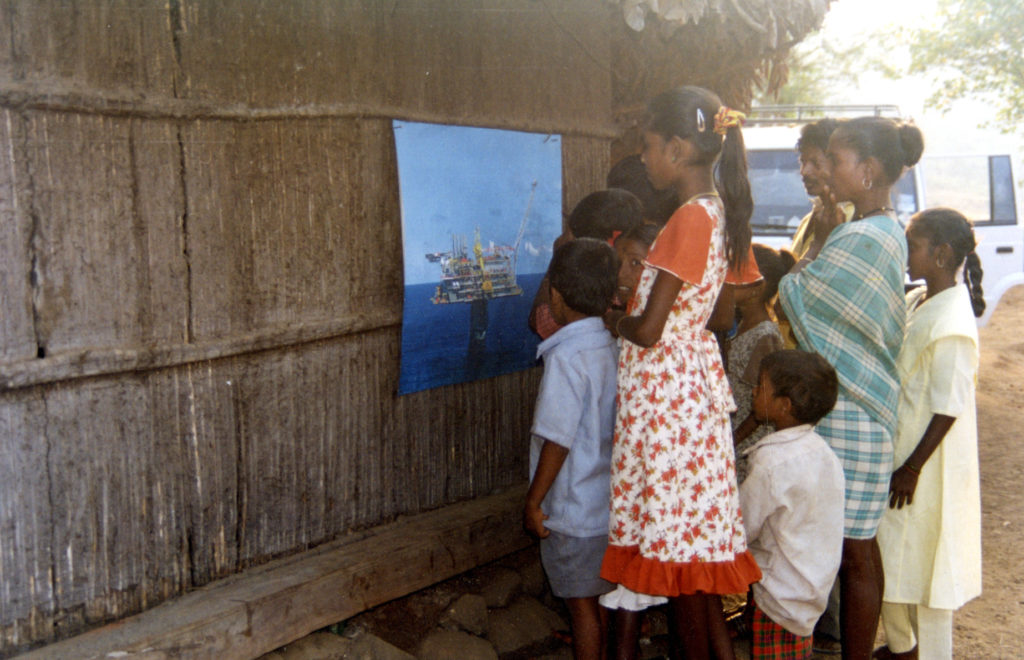 By building awareness and understanding of sustainable development, PBW could help to create a cultural shift in the organisation. Voluntary work in financial, environmental and social areas would increase knowledge about sustainability, which could feed back to Shell's own operations. A number of PBW teams with enthusiastic employees were established worldwide.
The group was also directly involved in the Draugen Village project. That included funds donated by Norske Shell for a community centre in Bhorkas. This was used for gatherings and for the production of incense sticks, and the adopted children in the village were also served a hot meal there every day.
In addition, the centre provided the village with a schoolroom. Although most of the adults there were illiterate, their offspring could now learn to read and write locally. Previously, the youngest children were taught by a peripatetic teacher while teenagers had to walk eight kilometres to the nearest town, Pen, to attend school.
The road was bad and turned to mud during the four-month monsoon season – making it impossible to leave the village. With the centre and money for a local teacher, the children could learn year-round.[REMOVE]Fotnote: Position paper, Draugen Village – oppsummmering.
When the project ended in 2006, the Draugen workforce had financed 72 homes, a community centre and a teacher's pay. Other achievements included drilling a well with associated pump. Lights powered by solar cells were installed in the streets and houses, and a rainwater collector was constructed from plastic cement bags.
The last of these measures extended the fruit and vegetable season by two months, while the village also began to cultivate mangos and other crops. Another important aspect was that the women secured employment by producing incense sticks, and thereby generated their own incomes.
Continuation
As mentioned above, the original project ended in 2006. But money remained in the kitty, so Thakur Rights and Development was established in 2010 as a three-year continuation programme. This was a collective effort to aid the aboriginal population of Ratatachiwadi and Tadachiwadi as well as Bhorkas. Work focused on building capacity for the local community in Raigad.
Funded entirely by Draugen workers, the project aimed to support resident rights and improve living conditions for people in the three villages. Efforts concentrated on education, health, living conditions and the environment, and was again pursued in collaboration with CFI.
Raising awareness among the locals of their rights and the Indian government's responsibilities played a key role, and a number of meetings were held on practical and monetary economics.
Special attention was paid to formal procedures, agriculture and women's right, with guidance and information on land rights, insurance, caste certificates, ration shops and so forth. The project also supported a number of initiative to promote education, such as sharing schoolbooks and writing materials, and information meetings for parents on the value of learning. A number of children and adults in the villages received support for vocational training as carpenters, bricklayers and the like.
Chickens were also handed out to a number of families to help improve their incomes and raise living standards in the local community. In addition, villagers received follow-up on health and nutrition, and participated in activities which promote environmental awareness – such as tree planting.
The project ended in 2013, and no further aid schemes had been launched on the Draugen platform up to 2018.