When Shell planned the Draugen development, the project included the installation of various subsea facilities and other work in 250 metres of water.
This included positioning a subsea pump and manifold as well as modules from Kongsberg Offshore, opening and shutting valves in deep water, connections and maintenance jobs of various kinds.
The Draugen underwater installation services (DUIS) contract was won in 1992 by Stolt-Nielsen Seaway, a specialist with diving and remotely operated vehicles (ROVs).
Based in Haugesund north of Stavanger, this company had to make a rather unusual acquisition in order to satisfy Shell's technical specifications for the work.
Plans called for ROVs to be used to carry out subsea work for the platform, since saturation diving by humans was not feasible at these water depths.
Several types of such vehicles were relevant, including crewed systems which kept the person doing the seabed job under atmospheric pressure no matter how far down they were.
The other principal solution was an ROV operated from a control room on a rig or ship without any people needing to go underwater.
Stolt-Nielsen Seaway had an ROV on its diving support vessel (DSV), but Shell wanted a back-up in case this vehicle ran into problems.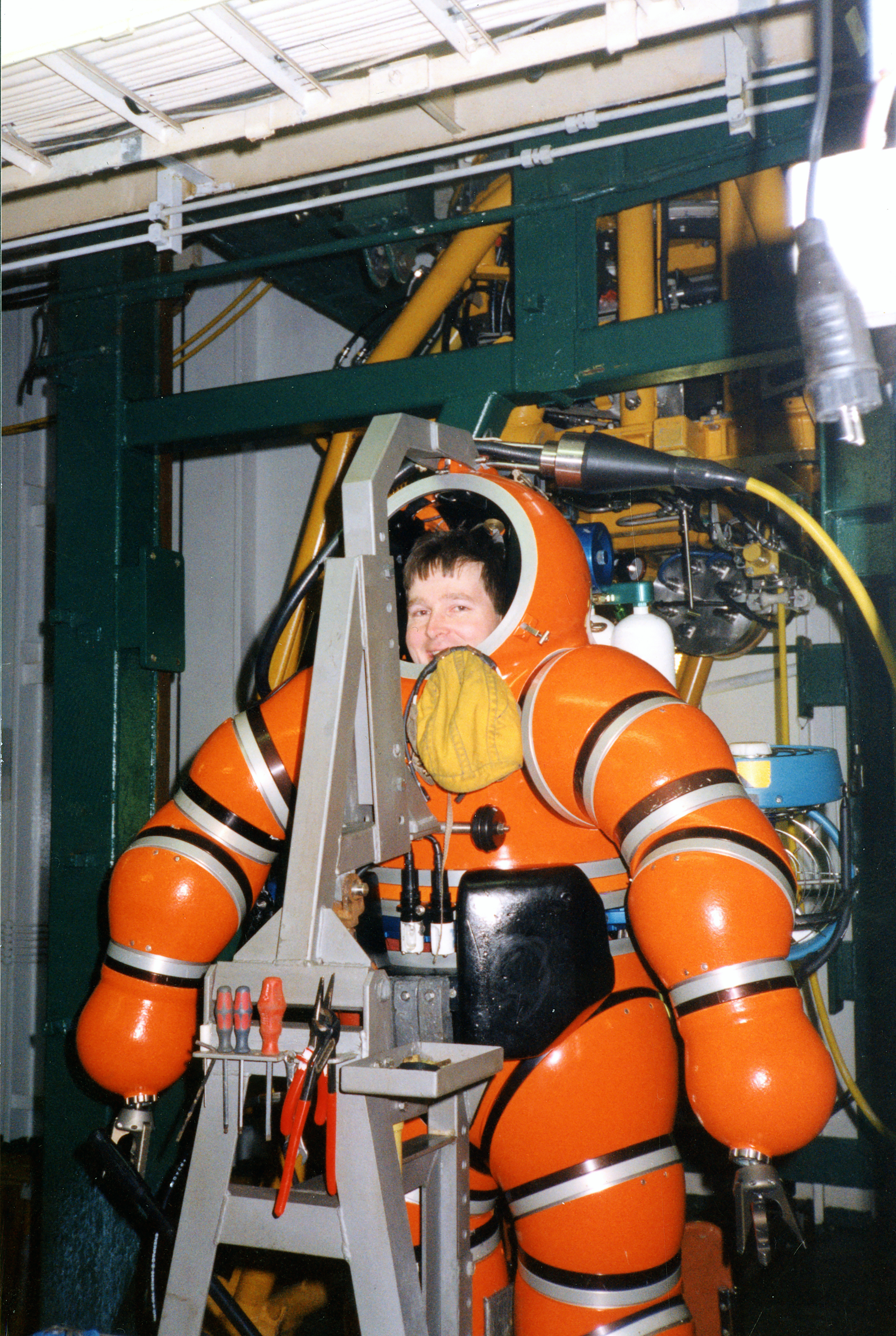 Diving could be an option, and successful test dives had already been conducted down to 250 metres and beyond. But demonstrating (qualifying) that descents to these depths could be conducted safely was both expensive and very demanding.[REMOVE]Fotnote: Joar Gangenes by email to Kristin Øye Gjerde, 13 October 2017.
Instead, Shell specified that the company must have an atmospheric diving suit (ADS) available as a back-up in order to secure the contract.
An ADS was an armoured diving suit suspended from a cable and provided with lifting equipment on the DSV. The operative/diver stood inside it like an astronaut, with a transparent dome for vision. Although able to walk on the seabed, he lacked the mobility of a diver.
Having won the job, Stolt-Nielsen Seaway had to invest in this system. It was purchased from a Canada-based company via Draeger and proved extremely expensive.[REMOVE]Fotnote: Joar Gangenes by email to Kristin Øye Gjerde, 13 October 2017.
A test programme established that getting a person inside this suit to do effective work was almost impossible. It was accordingly never used.
Fortunately for Stolt-Nielsen Seaway, Shell proved willing to bear the whole cost of both investment and testing. It regard this as research and development work.
Kåre Johannes Lie, who followed up this acquisition from the contractor's side, found the whole business unfortunate and felt spending money on an unnecessary system was a bit of a waste.[REMOVE]Fotnote: Kåre Johannes Lie in an interview with Kristin Øye Gjerde and Arnfinn Nergaard, 9 August 2017.
Subsea installation work was performed with the aid of the module handling system on the DSV, which had been developed earlier by Stolt-Nielsen Seaway in collaboration with Elf.
During the 1990s, the contractor also used the newly developed and powerful Perry Tritec Triton ROV from Oceana Subsea Ltd Perry Inc in Florida.
The most popular ROV on the Norwegian continental shelf in the 1990s, this unit could descend to 1 000 metres and perform subsea observation, sonar searches, seabed surveys and mechanical jobs.
With a deployment cable (umbilical) which incorporated the necessary communication lines, the Triton was able to remove and replace components on the seabed.
It featured two powerful manipulator arms developed by Shilling in the USA and remotely operated via a fibreoptic cable in the umbilical.
The package also included a cable drum, winch, power transmission unit and control room. Its control system ran an electric pump which drove the propellers and other gear.
Hydraulically powered thrusters provided propulsion in the sea. In addition came dedicated systems for lifting the ROV and its basket from the deck and into the sea.