The Norwegian Storting (parliament) decided as early as 1988 that Draugen's operations organisation would be located in Kristiansund. But it takes time to build up a completely new team.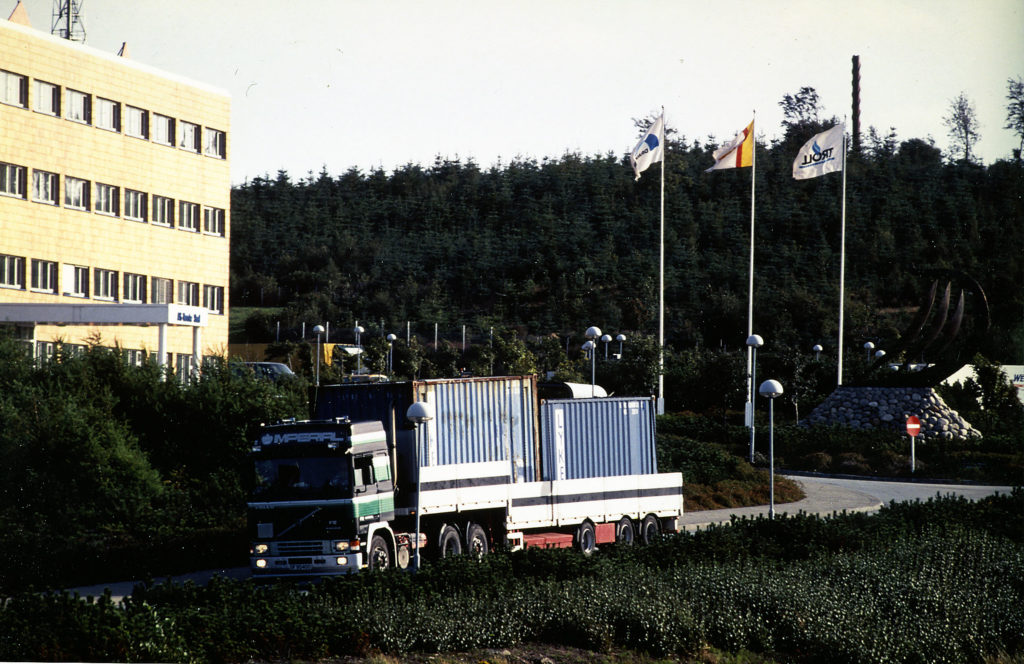 Planning accordingly started in 1989 at Shell's offices in Risavika outside Stavanger, with a constant eye to moving the organisation north in due course.
That occurred during the summer of 1992, when staff and their equipment were moved to Kristiansund. The operations team was fully in place at the new Råket office on Monday 10 August.[REMOVE]Fotnote: Stavanger Aftenblad, 8 August 1992, "Mandag bor de i Kristiansund. 200 ansatte i Shell flytter nordover denne helgen".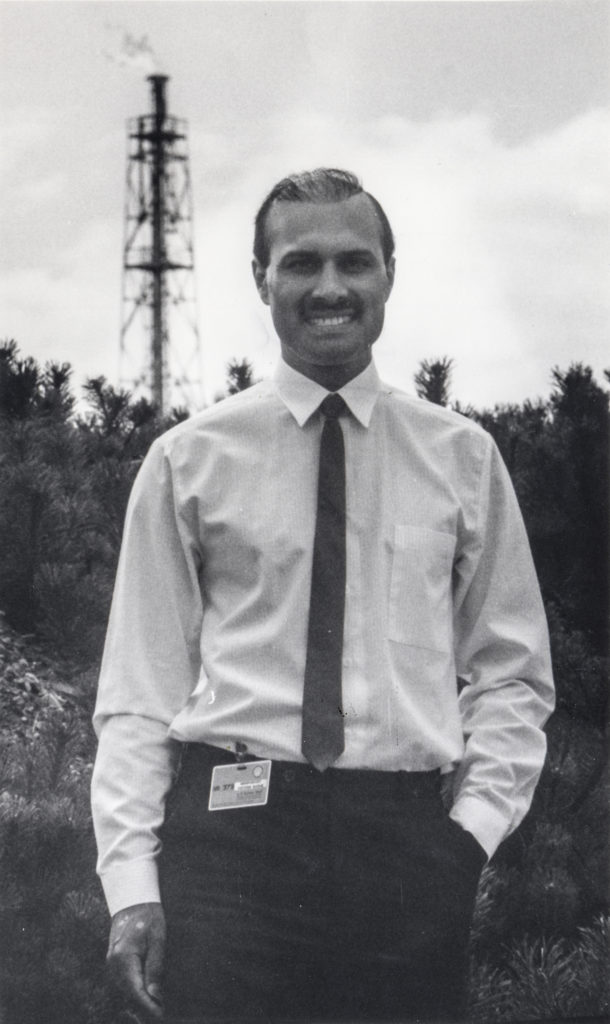 Work in the new organisation could therefore get going fully ahead of the start to production from the platform in the autumn of 1993. (Read more in the article on the big move.)
The challenge in building up the team was to strike a balance between local and expatriate personnel as well as contract staff. While one aim was to recruit as many people as possible from mid-Norway, additional competence had to brought in.
As part of the global Royal Dutch/Shell group, Norske Shell could draw on expertise and experience from the international organisation.
A number of expatriates were assigned to Norway and Draugen, and their know-how was important in the start-up phase. Over time, however, they were replaced with locals.
Norske Shell also had an operations organisation for its refinery at Risavika, and personnel from there were recruited to staff the Draugen outfit.
Minimum
The operations group for an offshore platform is split between office and support functions on land and the workforce on the facility itself.
In the Draugen case, an early decision was taken to locate as much of the work as possible onshore. Offshore staffing would be kept to a minimum.
Plans called for the platform to be run directly by 43 people per shift. With three shifts, that added up to a total of 129 personnel in the organisation.
Due to handle normal operation and limited maintenance assignments, this staffing represented a big reduction from similar facilities on the Norwegian continental shelf (NCS).
Since Norske Shell was not the operator for any other producing fields off Norway, it was easier to take new approaches to Draugen's organisation.
Such a small staffing would require contractors to be hired for all work outside normal production – catering, drilling, planned maintenance and modifications.[REMOVE]Fotnote: Telephone conversation between Gunleiv Hadland, Norwegian Petroleum Museum, and Gunnar Ervik, 26 April 2017.

Operations head Terje Olsen presented the philosophy for operating Draugen in a speech to the Halten Bank conference in March 1992.[REMOVE]Fotnote: Terje Olsen, operations head A/S Norske Shell E&P (1992), "Drift av Draugen og bruk av lokale og regionale leverandører",  Halten Bank conference.

Safety and environmental concerns occupied centre stage, he said. Part of the safety philosophy was precisely to station the smallest number of people offshore.
Work there would be reduced by extensive use of automation, conscious choice of materials, good accessibility and a concentration on condition monitoring.
The normal procedure on other installations was to disassemble equipment and send it ashore to check for wear and tear, but Norske Shell took a different approach.
Vibration meters would be installed and equipment inspected regularly, with the findings sent ashore for analysis by specialists.
These would then set maintenance priorities in consultation with the offshore workforce.[REMOVE]Fotnote: Ajour (house journal for Norske Shell's E&P department), no 2, 2 May 1991, "Vedlikehold med lav bemanning. Sikkerheten er ivaretatt".

Only unavoidable repairs were to be done on the platform.
Equipment not significant for safety would be sent ashore. Rather than strip down a pump and maintain it in the platform workshop, the plan was to replace the whole unit with a new one.
Maintenance or repairs would be done as far as possible at sub-contractors, preferably in mid-Norway. Shell had nobody for such work and therefore planned for back-up equipment offshore.[REMOVE]Fotnote:  Ajour (house journal for Norske Shell's E&P department), no 2, 2 May 1991, "Vedlikehold med lav bemanning. Sikkerheten er ivaretatt".
An important precondition for reducing the platform workforce was the development of information technology and high-speed data communication.
In that context, the Råket office was the first building in Kristiansund to be connected to the Norwegian telecommunications network by fibreoptic cable.
It was tied during July 1992 into Shell's international computer network, and Draugen was also linked in via satellite in the following summer.[REMOVE]Fotnote: EPO Express, June 1992, "Avansert datakommunikasjon: 'Hjertet i nybygget'".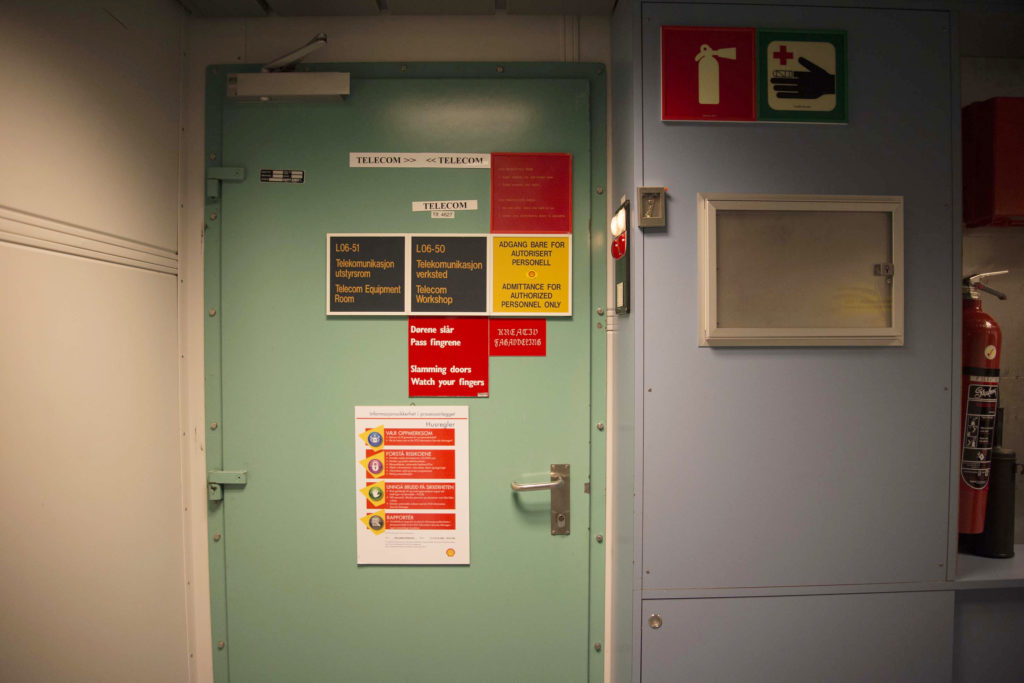 With satellite transmission capacity limited, data communication between sea and shore was perceived as unstable and time-consuming.
A computerised system for maintenance management was purchased in 1991, but response times experienced out on the platform were initially long and unreliable.[REMOVE]Fotnote: EPO info, no 2, 1994, "MMS-system for vedlikeholdsstyring": 12.
Such transmissions have been based since mid-May 1995 on a radio link, which provides much greater capacity for both data and phone communication. The satellite equipment was demobilised in the autumn of 1995.[REMOVE]Fotnote: EPO info, no, 3 1995, "Radiolink på Draugen": 14.
The maintenance management solution formed part of the computer systems intended to support operations. Digitalisation had made great strides at that time.
Virtually all technical drawings and seismic maps were available in digital form, and could be updated on the computer in the event of changes.[REMOVE]Fotnote: Ajour, no 2, May 1991 "110 mill. kr. i IT-satsing": 9.
Minimum staffing placed much greater responsibility on the individual employee. This was described as follows in Shell's EPO info house journal:
If somebody falls ill, we have nothing in reserve and are then dependent on a colleague from a different shift turning up to work. Pressure on the individual to put in an extra effort has increased, and it's important that this is planned as well and as early as possible."[REMOVE]Fotnote: EPO info, no 3, 1995 "Draugen-plattformen: Bedret kommunikasjon": 8.
More initially
The workforce on Draugen in 1993-95 far exceeded the planned minimum staffing, as a result of projects pursued after production had begun.
Construction work and drilling came to an end during 1995, and the number of personnel on board began to decline towards the goal of 43 people.[REMOVE]Fotnote: EPO info, no 2, 1995, "Vedlikeholdskampanjer gir økt kostnadseffektivitet": 7.
Several production wells were completed during this early period. Capacity for producing oil was upgraded in 1995 and part of the process plant was replaced to optimise output. The bulk of this work occurred during a 10-day June shutdown.[REMOVE]Fotnote: EPO info, no 4, 1995, "Oppgraderingen på Draugen: Suksess i første fase".
Drilling on the field was completed in February 1996 with the fifth production well. Norske Shell's drilling department had been stationed in Kristiansund since 1992 as an integrated part of the Draugen organisation.[REMOVE]Fotnote: Ajour, no 2, May 1991, "Boreavdelingen til Kristiansund. Vi gleder oss til 1992".
Following the final well, its seven staff were transferred to Stavanger to cooperate with the exploration team there. They were mostly expatriates, used to moving at short notice.[REMOVE]Fotnote: Tidens Krav, 7 February 1996, "Shells boreprogram avsluttet på Draugen".
Change processes
Opportunities for improving the running of Draugen in a number of areas were outlined in a report entitled Operations 2000, which was produced by a group established during 1996.
This found that costs could be cut while simultaneously increasing output, and figures were put on what was to be achieved by 2000. Most targets had already been reached at the end of 1997.
The production increase was bigger than planned, and operating costs declined steadily. High oil prices helped to ensure Norske Shell's best-ever profits.[REMOVE]Fotnote: Verdiskapning innen Draugen driftsorganisasjon (1998), project assignment, Management programme, BI Norwegian Business School.

But oil prices are seldom stable. They sank again as early as the following year to USD 10 per barrel, and operating results therefore deteriorated.
That presented Norske Shell Exploration & Production (NSEP) – the new organisation put in place from 1 June 1999 – with fresh challenges.[REMOVE]Fotnote: Shell UP, July 1999. NSEP 2000 og ny strategisk retning.
External factors such as oil prices had a direct impact on operating profits and contributed, along with cost overruns, to results the company found unacceptable.[REMOVE]Fotnote: Consultation group, NSEP 2000 (May 1999): Sammen om felles fremtid, Shell UP.
A new reorganisation was initiated, with a project on "Draugen – shaping up for the future" leading the way. Carried out in 2002-04, this involved restructuring the team running the field.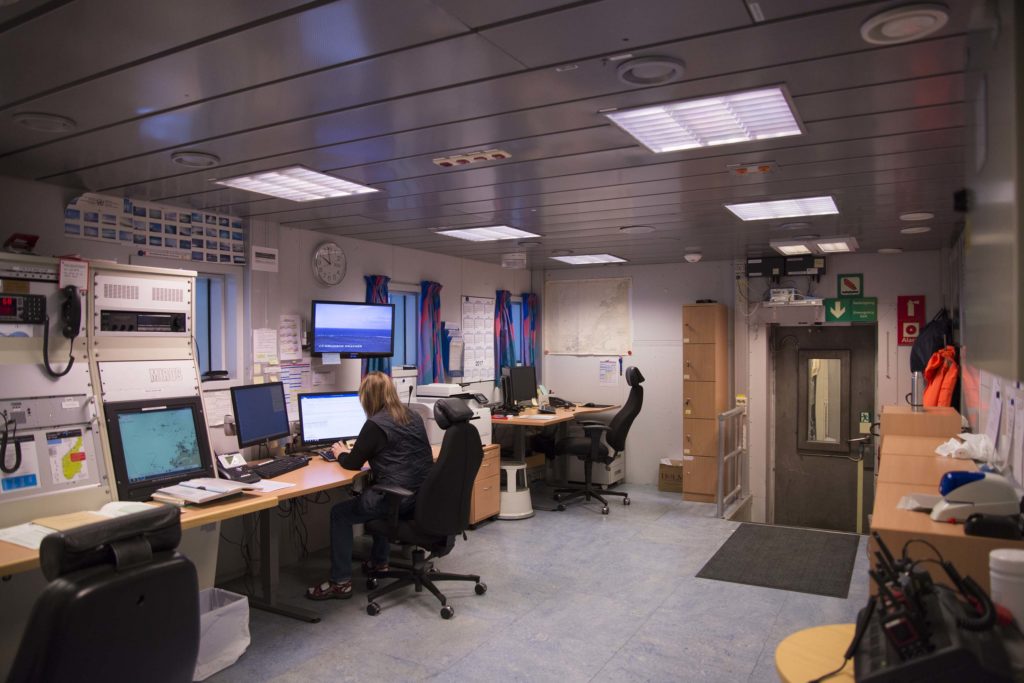 The goal was to reduce operating costs, primarily by transferring a number of jobs and personnel to land. The first function moved was the telephone switchboard.
Thereafter, staff at Råket had the job of booking helicopter flights for personnel heading to or from Draugen. The radio operator job on the platform was transferred to the nurse.
This change process was eventually coordinated with a major restructuring of Shell E&P's European organisation, which brought all exploration and production units into a common organisation.
The aim was to achieve coordination benefits and extend best practice.[REMOVE]Fotnote: http://www.ptil.no/nyheter/tilsyn-styring-av-hms-i-norske-shell-article1057-702.html (Read more in the article on Shell's history.)
In this connection, the "x-border asset" body was established in Shell E&P Europe to help coordinate the sharing of experience and implementing strategy across the Norwegian-UK border.
X-border asset consisted in 2006 of the Draugen and Goldeneye operations organisations, on the NCS and the UK continental shelf respectively.
In addition came the Mossmorran and St Fergus gas terminals in Scotland. Britain's Brent field belonged for a while but was later separated off.[REMOVE]Fotnote: Shell Drift Draugen og Ormen Lange, no 6, 2006, "No borders in x-border": 4-5. Ormen Lange on the NCS was included in 2007.
A goal of the Draugen organisation in this period was to become a centre of expertise within Shell for production, maintenance and communication.
Team members were given new reporting paths to Shell's offices in both The Hague and Aberdeen. A number of employees acquired greater responsibility through such cross-border reporting. That made the job more international for many, with wider opportunities for working in other countries for periods.
But the restructuring also meant that reporting lines became longer, and time lags between meetings with those one reported to could become lengthy.[REMOVE]Fotnote: Interview between Gunleiv Hadland, Norwegian Petroleum Museum, and Alf Kristian Lillebo, 14 May 2018.
Ormen Lange and new operating modes
Gas was discovered in 1997 about 120 kilometres north-west of Kristiansund, with Norsk Hydro as operator and Shell as one of the licensees.[REMOVE]Fotnote: Stavanger Aftenblad, 10 April 1999, "Alle mot alle på Ormen Lange".

This discovery was named Ormen Lange.
While Hydro became development operator, it was established in 1999 that Norske Shell would take over after the field came on stream in September 2007. That happened the following 1 December.
Shell also secured responsibility for preparing the subsea and onshore installations for production, and for coordinating work on drilling the production wells.[REMOVE]Fotnote: Proposition no 41 (2003-2004) to the Storting: Utbygging og drift av Ormen Lange og anlegg og drift av Langeled m.v: 7.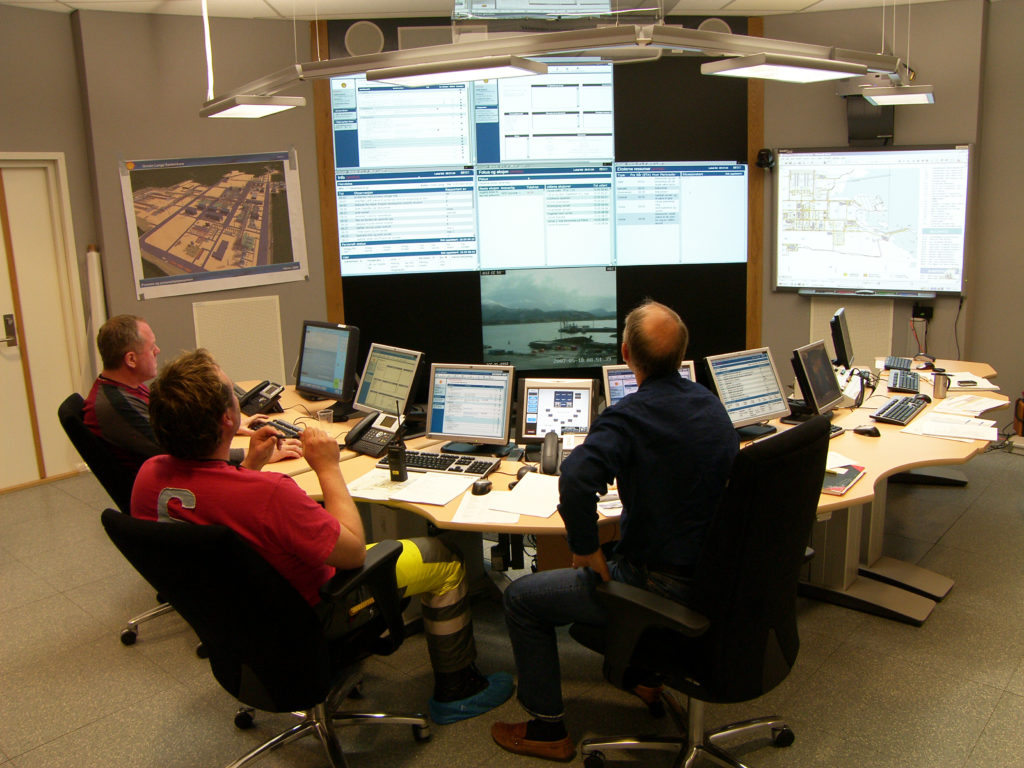 It was decided to develop Ormen Lange with remotely controlled subsea installations tied back to a land-based processing plant at Nyhamna outside Molde, south of Kristiansund.
Gas and condensate output was to be transported ashore as an unprocessed multiphase flow through two 120-kilometre pipelines in water depths down to 1 100 metres.
That called for technological advances and the adaptation of equipment, as well as for new forms of operation, and this became an important project for developing remotely operated production.
The operations team responsible for the land-based plant was stationed at Nyhamna, with management and technical support for this facility provided from Råket.[REMOVE]Fotnote: Pettersen and Sæter (2014): RFID-merking av sikkerhetsventiler: Forbedring av informasjonsflyt i vedlikeholdsprosesser på Nyhamna, thesis for a BSc in petroleum logistics, Molde.

As with Draugen, training was organised for operators ahead of production start-up using a simulator which imitated control room functions for Ormen Lange. This was installed alongside the control room in the administration building at Nyhamna.[REMOVE]Fotnote: Shell Drift Draugen og Ormen Lange, no 1, 2007, "Simulatortrening gir trygghet": 11.
Integrated/e-operation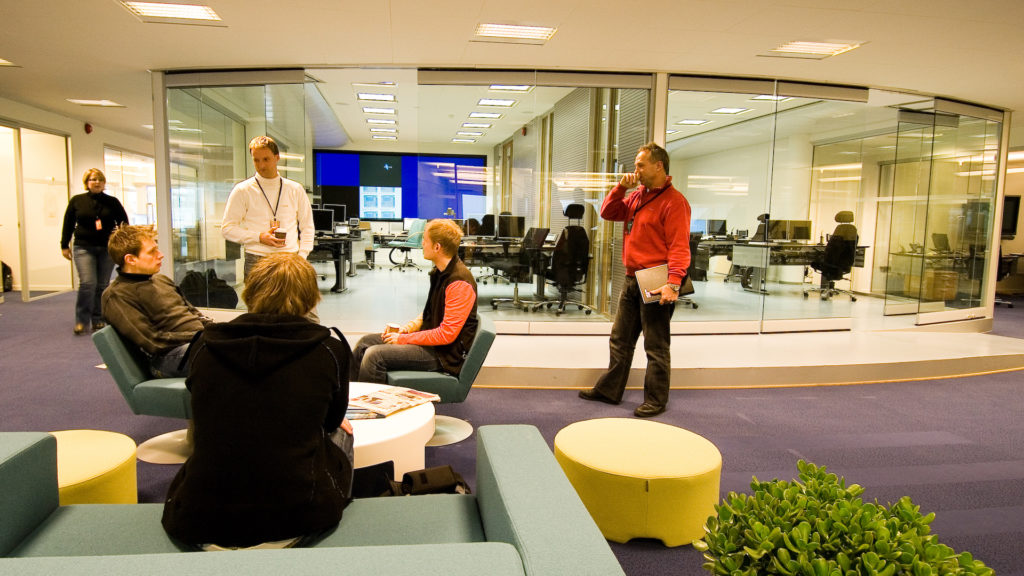 The Råket operations centre opened on 31 January 2007 with provision for integrated or e-operation, which permits follow-up and possible control from land.[REMOVE]Fotnote: Shell Drift Draugen og Ormen Lange, no 1, 2007, "Råket Operasjonssenter åpnet dørene": 14.
Supporting both Draugen and Ormen Lange, this facility ranked at the time as the most modern of its kind in the Shell group and was tied into Shell Europe's communication network.[REMOVE]Fotnote: Aarset, M and Moe, O (2008), "IT Security and Architecture for Integrated Operations: Examples from deliveries to Ormen Lange and Draugen". Intelligent Energy Conference and Exhibition, Amsterdam, The Netherlands.
Experts in relevant disciplines could now monitor and comment on work offshore from the centre, reducing the need for them to visit Draugen.
Although it now became possible in principle to run the platform entirely from land, this opportunity had yet to be taken by 2018.[REMOVE]Fotnote: Telephone conversation between Gunleiv Hadland, Norwegian Petroleum Museum, and Gunnar Ervik, 26 April 2017. The operations support team on land included experienced production operators from the platform, and the coordinator on land rotated with the same job offshore.
While land personnel could follow up shifts on the field to a greater extent than before, high-quality videoconferencing was also provided. That in turn permitted closer monitoring and regular long-range meetings between sea and shore.[REMOVE]Fotnote: Bjerkestrand, Tor (13 November 2007), "Integrated Operations", presentasjon, Draugen MCM.
From offshore to onshore
Transferring work ashore is not unique for Draugen or Shell. Once fibreoptic cables are in place for fast data transmission and collaboration, this has occurred on most Norwegian platforms.[REMOVE]Fotnote: Paulsen, Gard (2005). Informasjon over Nordsjøen: Telekommunikasjoner på norsk sokkel, research report no 3, BI Norwegian Business School.
However, no fibreoptic cable has been laid all the way to Draugen. Communication with the field continues to utilises a radio link.
Actual staffing on the platform varies in line with the work under way – conversions or more substantial maintenance, for example.
A common feature is that the permanent operations organisation offshore does as little as possible. Major maintenance and conversion campaigns are handled as specific projects, where extra personnel are hired in when required.
Centre both offshore and on land
The Draugen operations team was the first in Kristiansund, just as the field was the first on the NCS to be operated by Shell. Much of the organisation therefore had to be built up from scratch.
More such bodies were eventually established in the area, and Shell also became production operator for Ormen Lange – which benefitted from the experience gained with Draugen.
From the start, a key aim in operating Draugen was to minimise the platform workforce and do as much as possible on land. A number of reorganisations have sought to optimise this.
In connection with Ormen Lange, further concepts for operation from land were developed with the Kristiansund centre tied back to Draugen and Ormen Lange by fast data links.
This development forms part of a pattern in the oil industry, involving increased use of data communication, remote control, integrated operations and collaboration between sea and shore.