The Draugen platform stands by itself out in the Norwegian Sea, with no other fixed facilities close by. Those who work there have been concentrated together in a confined space.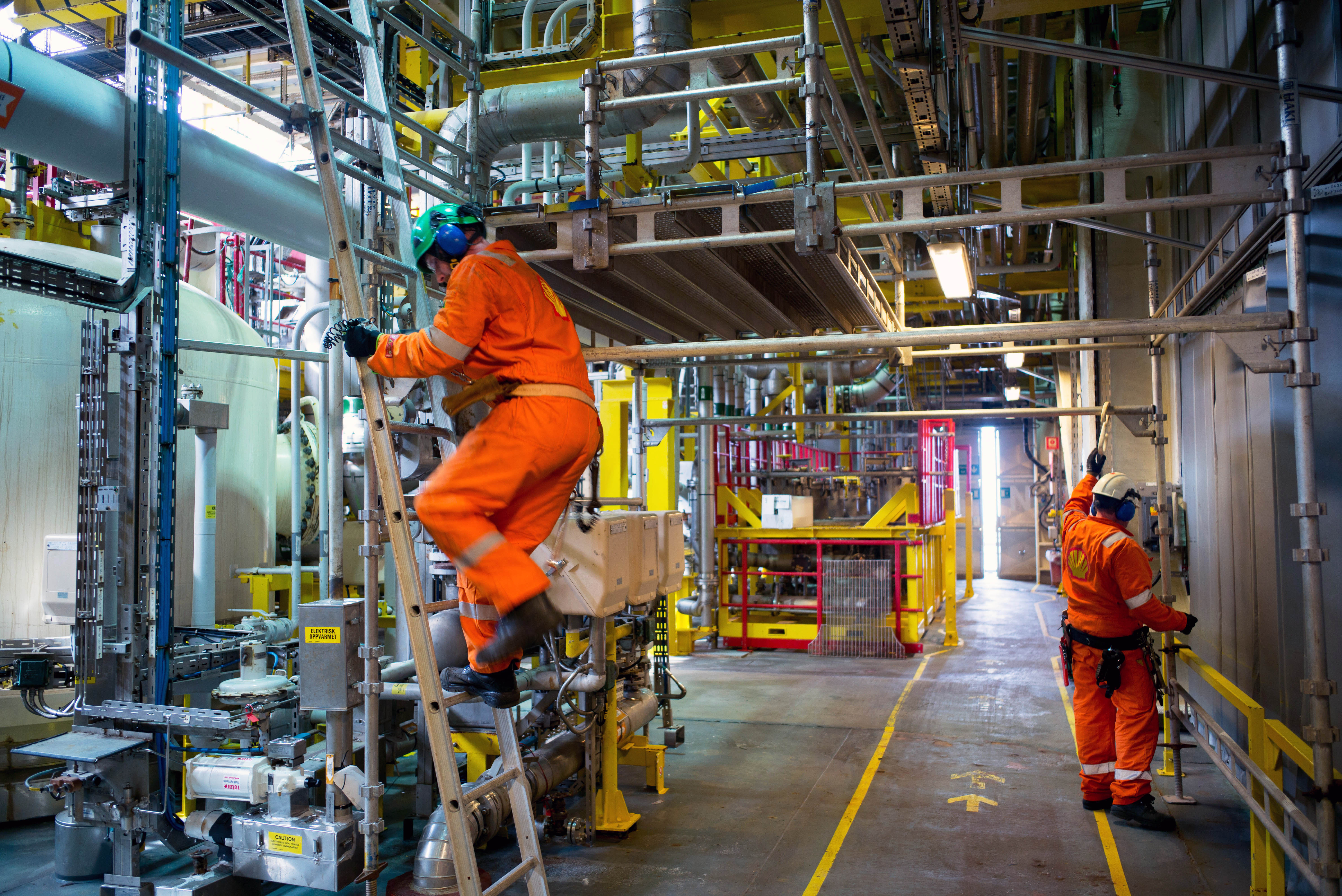 Many of the field's personnel have worked there for many years, making them thoroughly familiar with the installation and allowing close ties to be developed between colleagues.
When Draugen came on stream in 1993, 43 people per shift were expected to be sufficient for normal operation. Their jobs covered managing the process, maintenance, catering and cleaning, medical care and safety.
Most of these personnel are employed by Norske Shell or the catering company. The workforce can expand considerably when major maintenance or conversion work is underway.
Rotation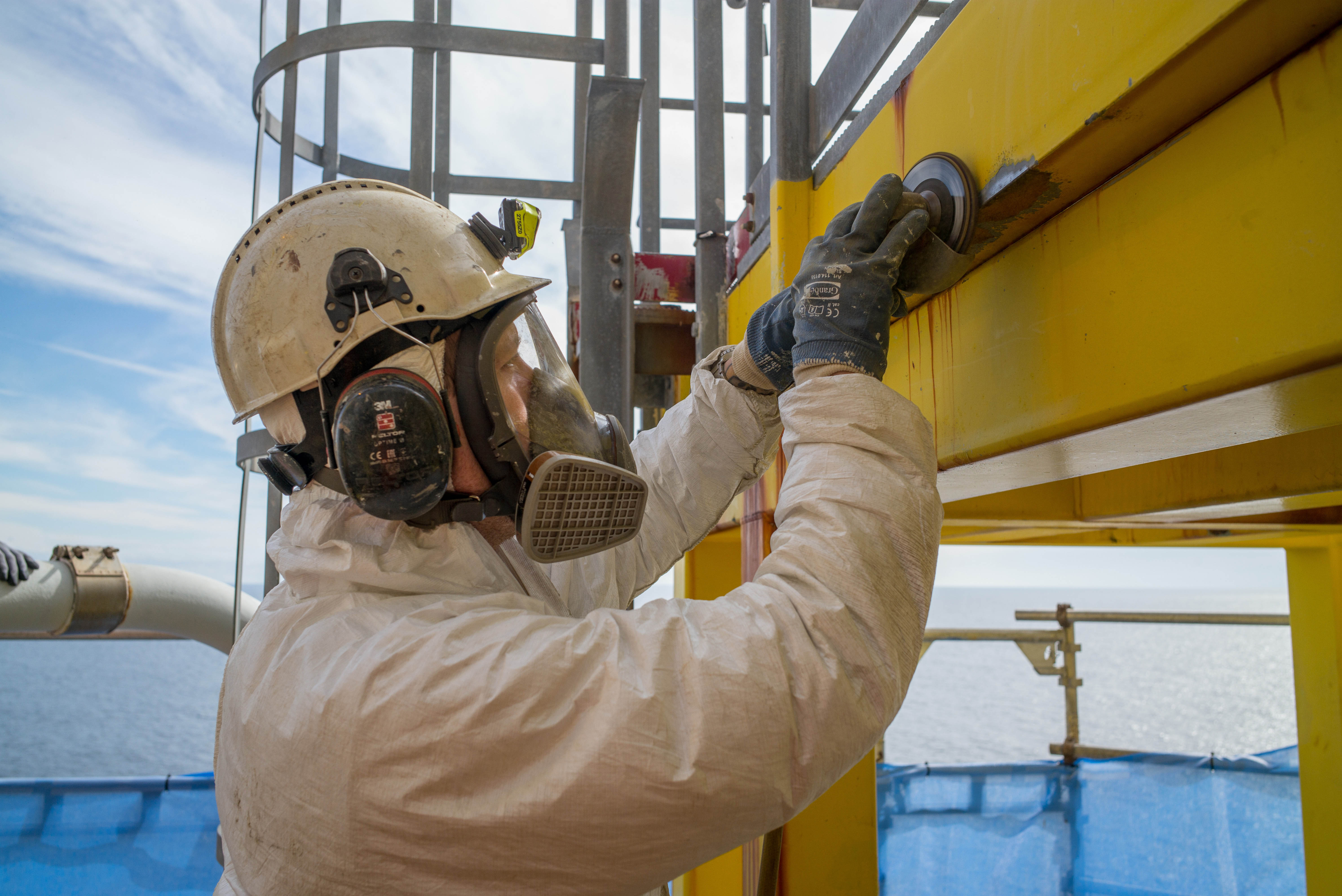 Draugen employees work offshore for two weeks, followed by four weeks off on land. They do 12-hour shifts, either day or night, and their working hours over a year compare with those of an industrial worker on land.
Generally speaking, a shift runs from 07.00 to 19.00, and from 19.00 to 07.00. Work is planned so that as much as possible is done by the day shifts. Three shifts, each working two weeks at a time, are needed to get the tour rotation to work.
Since a new team takes over responsibility and jobs every other week, logging and documentation of work done, irregularities and plans are crucial.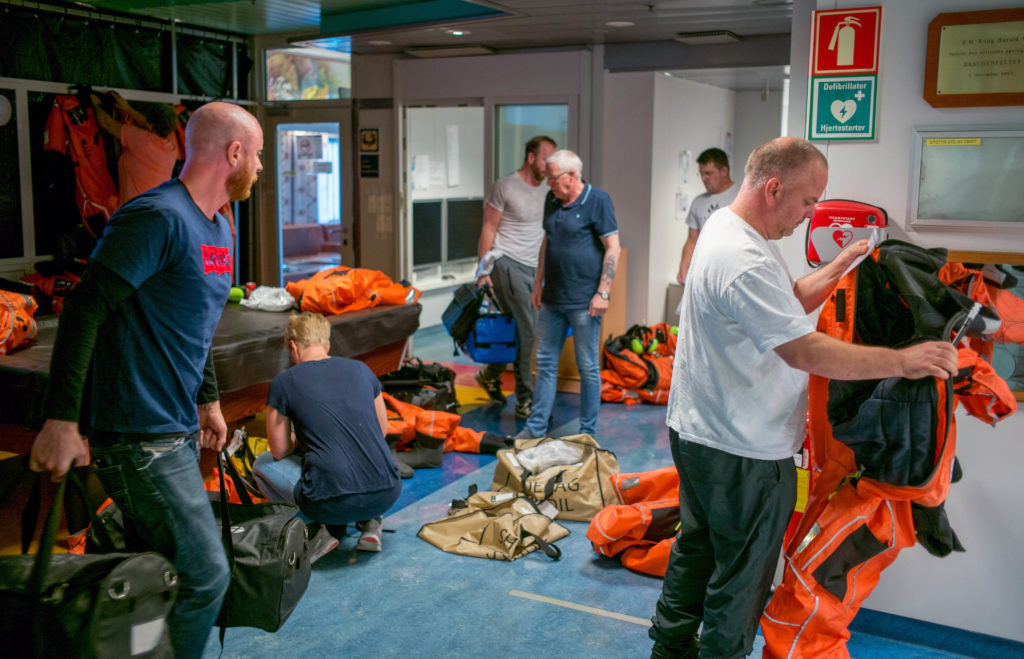 When a different person comes out to work, they need to know what has happened over the four weeks since their last tour. So time was devoted to recording and reporting.
During the early years on stream, this could take the form of logbooks kept on the platform. Logs have subsequently become computerised, making them also available to the land organisation.
As communication via radio links and data transfer has improved, computerisation has provided enhanced support in ensuring the continuity of work at shift changes.
The team on land has access to the same computer systems used offshore, and follow up activities on the platform through such technologies as videoconferencing.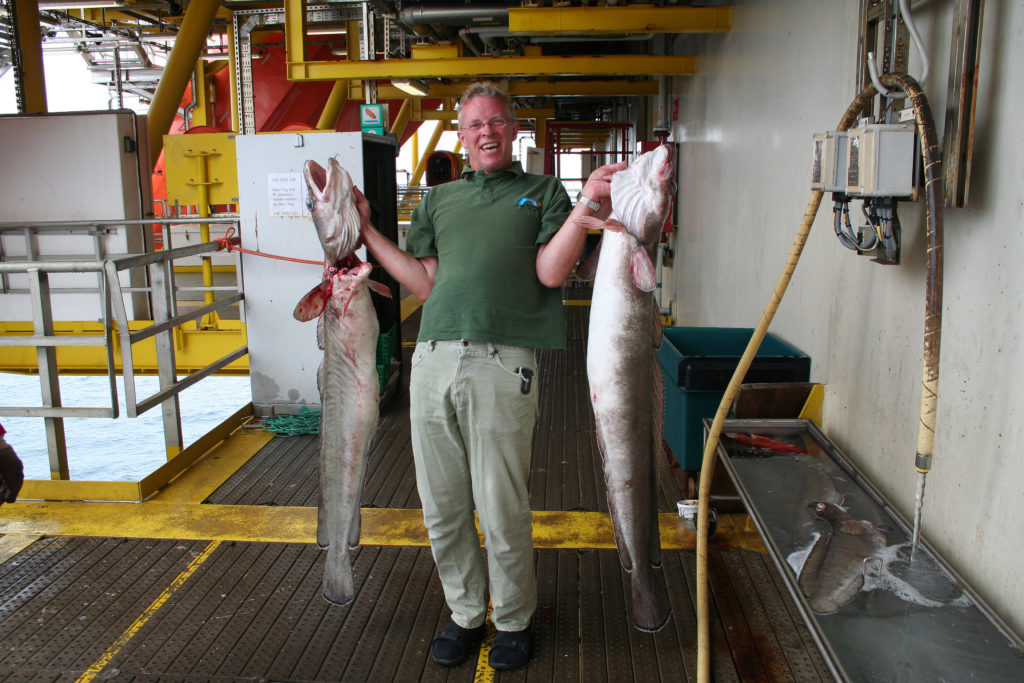 During their offshore tours, employees are part of a community which lives and works in one place. Draugen is a 24-hour society, in that workers also spend their leisure hours there.
The latter are largely devoted to eating meals and getting enough sleep. But some time is available for talking with colleagues and reading the papers.
A number of leisure activities are also provided on the installation, with a welfare committee made up of enthusiasts elected by the workforce.
This organises film shows, golf in a simulator, computer games, song and music, arts and crafts and angling.[REMOVE]Fotnote: A/S Norske Shell (2005) Shell Drift Draugen, brochure. The gym is the most popular leisure provision on Draugen.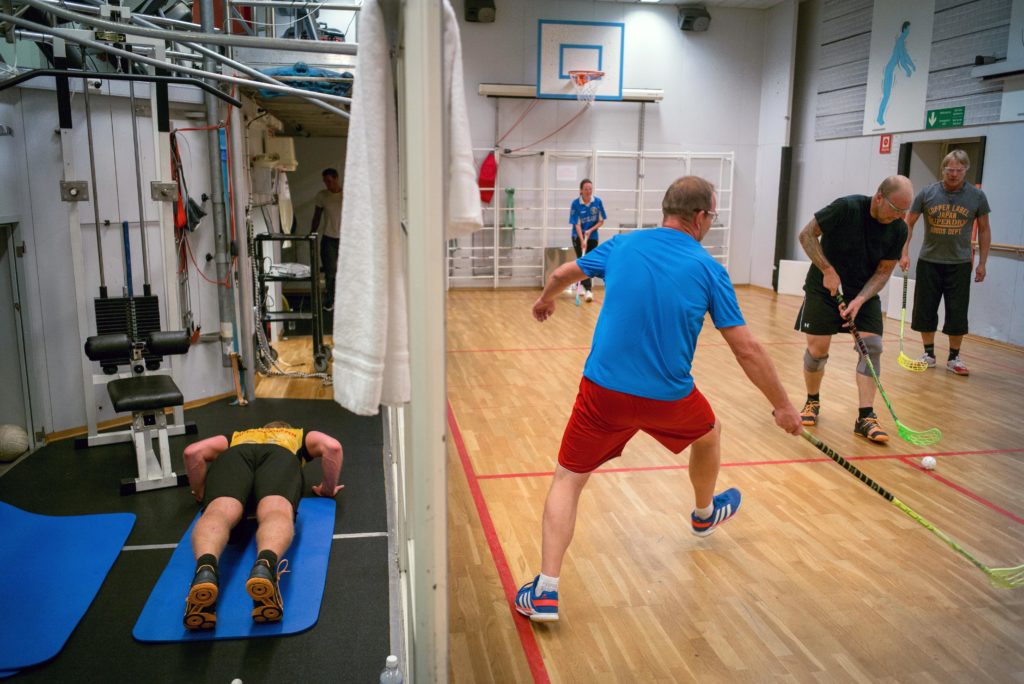 Personnel travelling out to the platform are now allowed to bring their mobile phone. This can only be used in the living quarters, but has made it easier to keep in touch with family and friends on land. A dedicated wireless network has been installed to cover the living quarters.[REMOVE]Fotnote: http://www.draugen.in/velferdsnett/
At one time, mobile phones were prohibited on all Norway's offshore facilities because they could interfere with helicopters, or exploding batteries could serve as an ignition source.
Control of the information flow provided another important reason for the restriction. The company was concerned about what information – or disinformation – could be sent ashore and create uncertainty and needless fears.
Mobile phones are still banned from the production area, precisely because of concern about possible battery explosions and disruption of electronic instrumentation.[REMOVE]Fotnote: Teknisk Ukeblad 7 November 2013, Derfor må mobilene bo på hotell,.  https://www.tu.no/artikler/derfor-ma-mobilene-bo-pa-hotell/233850.
Under control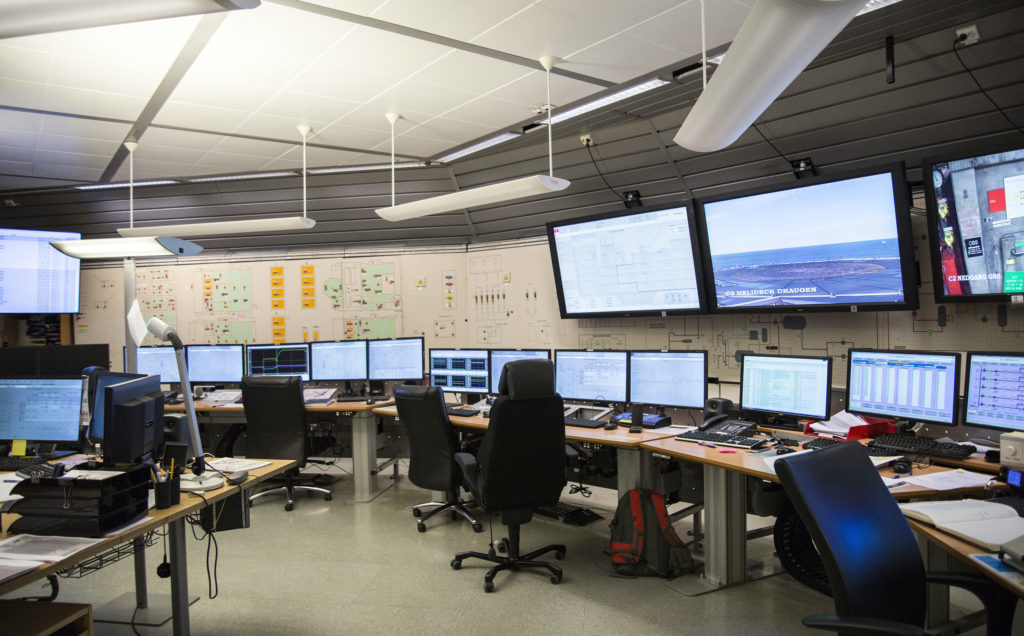 The central control room (CCR) is the platform's heart and nervous system, and can monitor, govern and regulate the whole production process with the aid of a comprehensive computer system.
It runs the process and safety systems, which involves continuous supervision of operational equipment – including fire and gas detection as well as safety systems such as fire pumps and emergency power.
A minimum of two operators must be in the CCR at all times to facilitate planned work on the production facilities as well as responding to messages and alarms.
These personnel are also responsible for monitoring and controlling the loading of oil into shuttle tankers.
The CCR has a number of work stations, allowing operators to monitor and work on several systems simultaneously. More than two of them can be on duty when things get hectic.
Handover procedures between day and night shifts are just as important as they are when tours are being rotated offshore and to land. When the night shift is due to take over, meetings are held with the day shift before it stands down. Held in a room adjacent of the CCR, these review jobs done and planned, and the work permits (WPs). The WP represents an important document on offshore facilities. They are designed to ensure that all risk-related aspects have been taken into account. That covers the planning, approval, preparations, execution and completion phases. All activities are thereby coordinated, with information given on hot work or closed areas/equipment and taken into account when doing other types of jobs.
All WPs must be approved by the operations supervisor or the offshore installation manager (OIM).
Most of the process on the platform is automated – not least shutdowns. If abnormal values are measured by the detectors, the whole process plant will automatically cease running.
If such an emergency shutdown (ESD) or other crisis occurs, the CCR operators are trained to handle them. That plays an important role in safety and risk management work on Draugen.
A number of closed-circuit TV (CCTV) cameras are installed on the platform, allowing the CCR operators to follow physical events out in the process.
Since the platform came on stream, the CCR has been converted and upgraded a number of times. Bigger computer monitors and newer control software have been installed.
These upgrades have been carried out in consultation with the CCR operators in order to ensure that they provide the best possible workflow.[REMOVE]Fotnote: Raaen, Stine N (2015), Team Situation Awareness in Practice, MSc theses in cybernetics and robotics, Norwegian University of Science and Technology (NTNU): 60.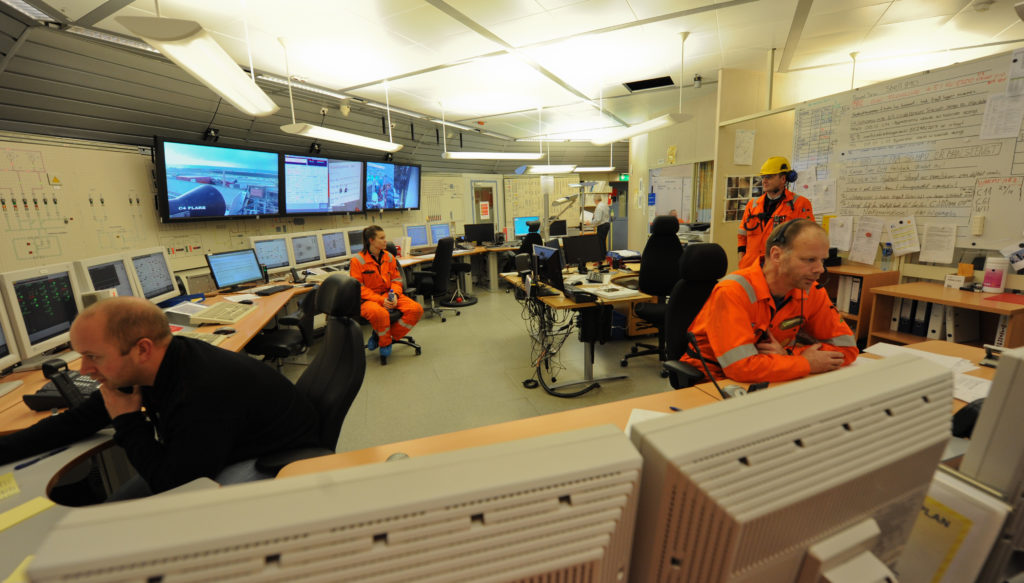 The meeting room is linked to the CCR, and contains systems for videoconferencing and collaboration with the land organisation. It also serves as an emergency response centre.
(pic)
Screen capture from the film 1-2-3 Vi er med! produced for a campaign launched by the Draugen operations organisation in 1994.
Land organisation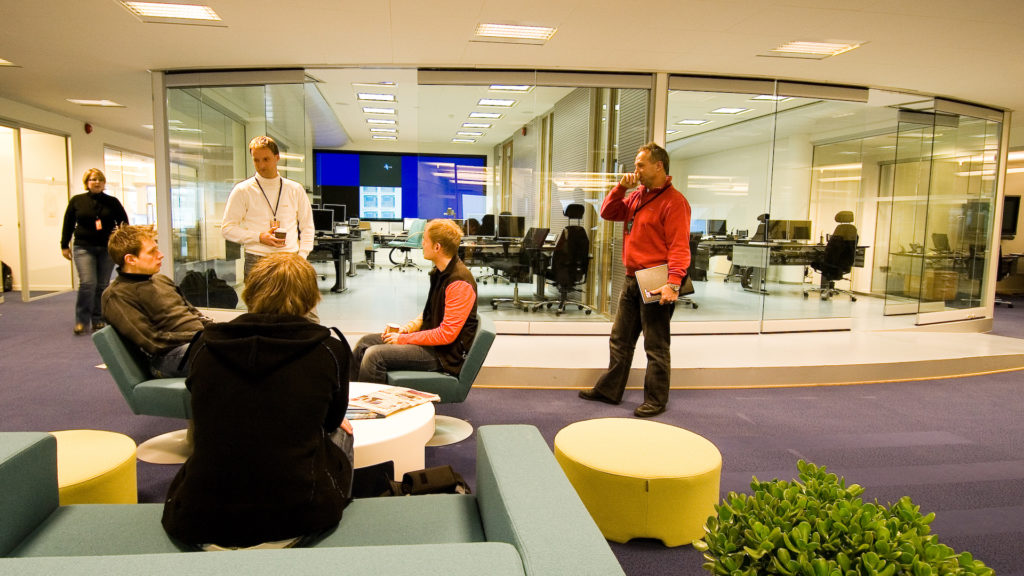 The operations team on land is structured to support work on the platform, and performs the administrative duties which do not need to be done offshore.
It includes experts on the various activities pursued on the field, and additional capabilities can be acquired as and when required. The specialists on land can decide on the action to be taken in meetings with the offshore organisation.
One factor which attracted particular attention in the first phase after the field came on stream was the challenges faced in getting sea and shore to collaborate.
These problems could be related to the slow performance of computer systems and lines of communication, and inappropriate reporting structures.
One approach to improving collaboration and understanding between the two sides has been to post offshore personnel to the operations office on land for periods.[REMOVE]Fotnote: Conversation between production technician and acting chief safety delegate Jan Atle Johansen and Gunleiv Hadland from the petroleum museum on the Draugen platform, 7 March 2017.This means staff in Kristiansund have practical experience of working conditions on the platform, allowing them to conduct planning and administration related to work offshore.
Since the operations centre on land was opened in 2007, provision has been made for monitoring Draugen production from there – particularly on the night shift.
Should unusual incidents occur on the platform during these hours, key personnel from the day shift are called out until the position has been clarified.[REMOVE]Fotnote: A/S Norske Shell, 10 April 2003, Draugen organisasjonsendring. Konsekvensvurdering – Produksjonsleder Natt.
The land organisation has departments for logistics, contracts and procurement, human resources, maintenance, production support, and filing and document management.[REMOVE]Fotnote: A/S Norske Shell (2005) "Driftsavdelingen i Kristiansund", Shell Drift Draugen brochure.
One example of a function which has been transferred from field to land is the switchboard for handling external telephone calls to the platform.
The work of planning personnel resources in connection with sickness, leave of absence and extra activities has also been moved ashore.
Sea-shore collaboration has been boosted by the process simulator at the Kristiansund office, which was included in the development plans as early as 1987 for personnel training.[REMOVE]Fotnote: Draugen impact assessment, September 1987: 22.
This facility was constructed with control systems which mimicked those in Draugen's CCR, and it could be used before the field came on stream to test management of the process.[REMOVE]Fotnote: Draugen magasinet, no 2 1993, "Simulatoren brukt som testverktøy", A/S Norske Shell E&P operations department.
Everyone employed as a production operator was trained in the simulator, and had to demonstrate at the end of the course that they could shut down and restart the wells.
A training plan was tailored for each person. Using the simulator, they could make mistakes and practise until they were proficient.
Operators could only start working on the platform after their competence had been approved by the instructors attached to the simulator.
Day courses have also been organised so that operators on their way out to the platform can be informed about updates since they were last at work.
When changes were made out on Draugen, the simulator was updated accordingly and, if necessary, the alterations could be tested before being introduced offshore.[REMOVE]Fotnote: Interviews between Nils Gunnar Gundersen and Gunleiv Hadland from the Norwegian Petroleum Museum, 27 October 2016 and 1 November 2017.
Training in this facility has played an important role in educating the production operators, and has been extended through their work out on the platform.
(pic)
Reviewing the process on the platform in the simulator at Råket in Kristiansund. Training supervisor Geir Solberg is in the foreground. Photo: Engvik/Norske Shell/Norwegian Petroleum Museum NOM (NOMF-02784.046)
Maintenance and turnarounds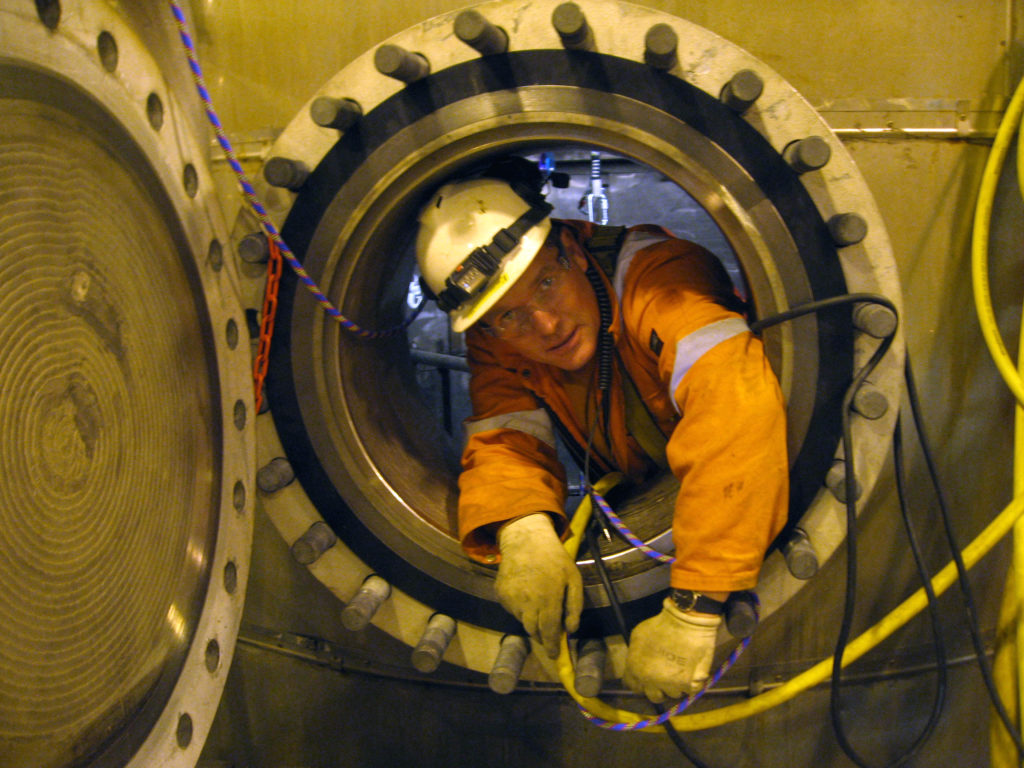 As much maintenance work as possible on a platform like Draugen is preventive, and planned to avoid the need to take corrective action – in other words, repair a fault after it has occurred.
Maintenance based on fixed intervals includes such activities as replacing seals, filters and other components exposed to wear and tear.[REMOVE]Fotnote: Pedersen, Vikse and Tingvold (2017): Vedlikeholdsanalyse RCM hos Shell, BSc thesis, Molde University College: 9.

This is the same approach as the one taken with a car which gets serviced at regular points, where parts are replaced after a specified number of kilometres driven or time passed.
Roughly 150 different safety valves are in use on Draugen, for example, tailored to various sizes and pressures. These get replaced during production shutdowns or maintenance campaigns.[REMOVE]Fotnote: Pettersen, Victoria C F and Sæter, Karina L, 1 July 2014, RFID-merking av sikkerhetsventiler: Forbedring av informasjonsflyt i vedlikeholdsprosesser på Nyhamna, BSc thesis in petroleum logistics, Molde University College.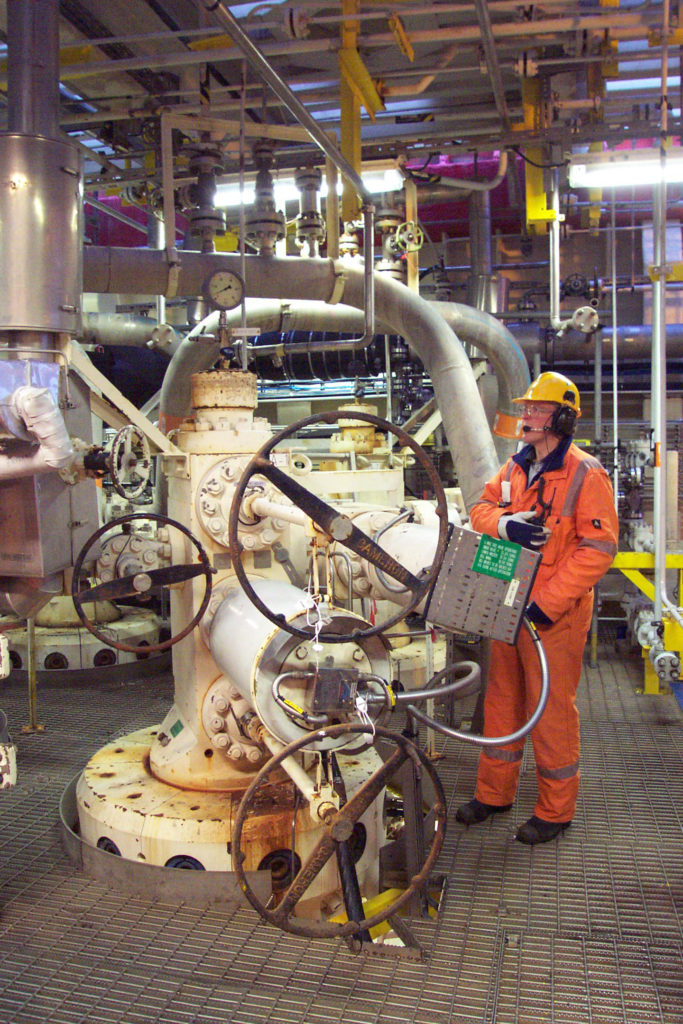 Maintenance work on Draugen is organised on the basis of an inspection programme which specifies equipment checks at certain intervals and is coordinated by computer systems.
The programme lists components where critical faults could arise and which must receive particular attention during maintenance. Other items can be assessed as safe to leave until they fail, and are only replaced then.
An initial version of the inspection programme was established in the spring of 1993, even before the field came on stream, in a collaboration between Møre Engineering, Liaaen and CorrOcean.[REMOVE]Fotnote: Tidens Krav 12 May 1993. "Møre Engineering: Fra bygging til drift". Supplement on industry in Nordmøre.

Much of the equipment is continuously supervised by a computerised condition monitoring system (CMS). Analysing data from the process plant can detect whether something is wrong.
Also set up to notify abnormal temperatures, this condition-based maintenance (CBM) solution avoids having to open up the equipment to check for faults.
Once the CMS has provided such notification, the load on the relevant component can be reduced until it can conveniently be replaced.
The operator on the platform reports to the technical supervisor, who contacts the responsible manager on land in turn.[REMOVE]Fotnote: A/S Norske Shell (2005) Shell Drift Draugen, brochure. They can then jointly assess the action to be taken.
Production operators on Draugen routinely tour the process areas with the emphasis on identifying anything abnormal, and experienced people can detect leaks early simply by the smell.[REMOVE]Fotnote: Werner Frøland, team coordinator at Draugen in film Norske Shell 100 years. 1912 -2012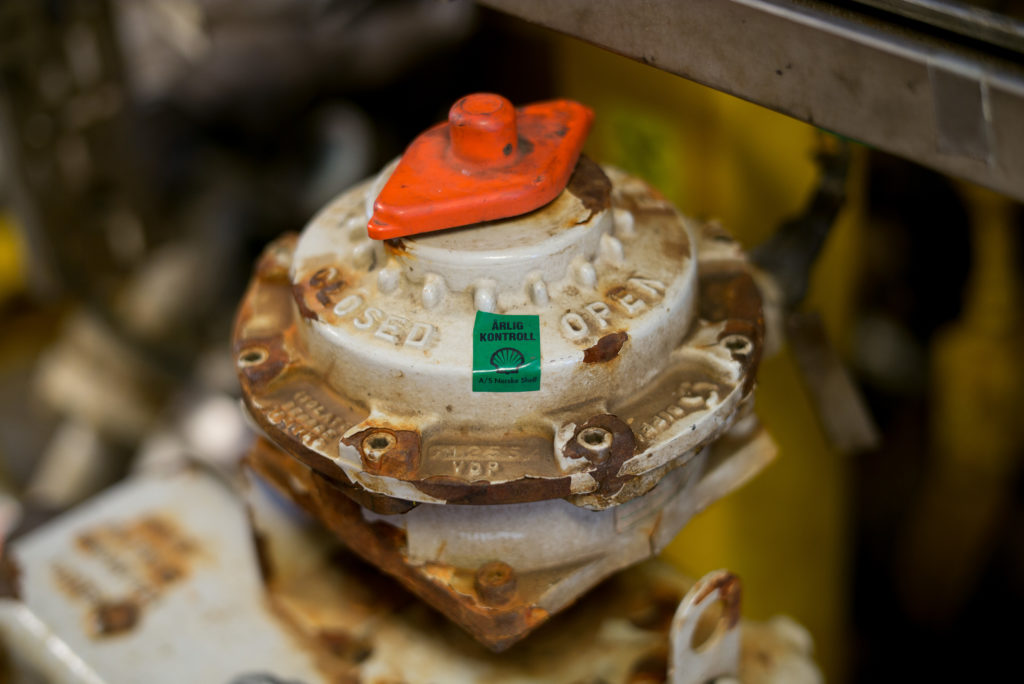 Planning maintenance tasks has made it possible to concentrate such work at times when production from Draugen is shut down. These periods are known as "turnarounds".
Production from the platform has been suspended for roughly 14 days every other year – or once a year in the event of major projects.
This shutdown is partly intended to make it possible to perform inspection and maintenance in areas of the platform which are difficult to access during production.[REMOVE]Fotnote: NRK Møre og Romsdal (10 May 2011) Bruker milliarder på produksjons-stans https://www.nrk.no/mr/draugen-stenger-i-19-dager-1.7626438
A dedicated team in the operations organisation on land will have been responsible for planning the work to be carried out during a turnaround. Equipment, extra personnel and required materials need to be ordered well in advance in order to be available at the right time.[REMOVE]Fotnote: Shell Drift Info Draugen and Ormen Lange no 5, 2006, "Vedlikeholdsstans krever ett års forberedelse": 9.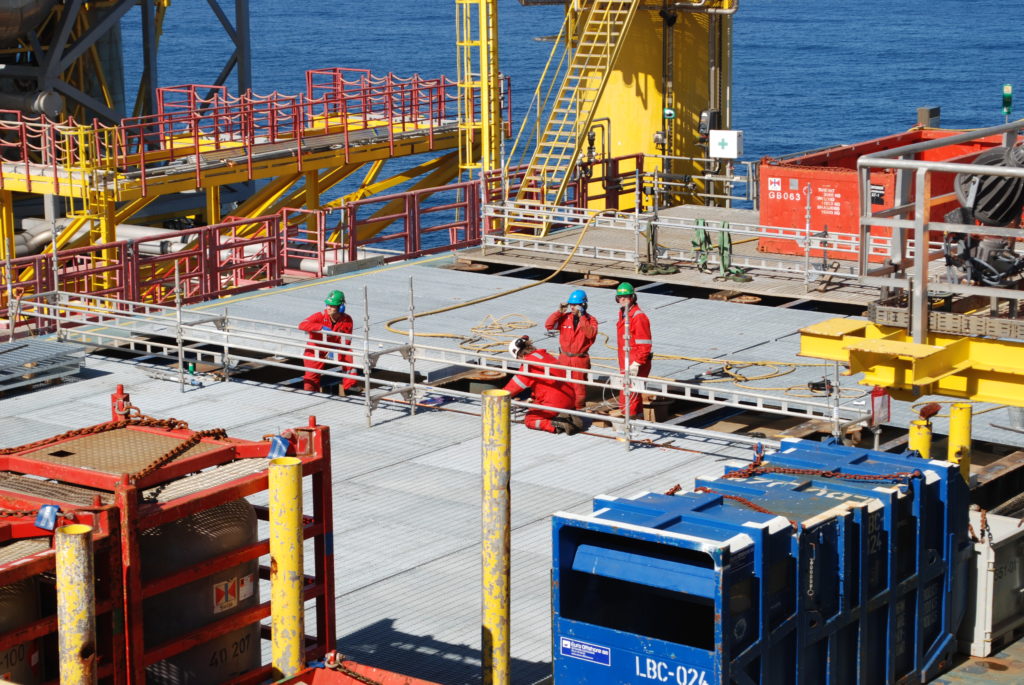 A turnaround is usually scheduled for the summer season so that weather conditions are as good as possible during this period of concentrated work.
The scope of maintenance grows as a platform ages, and doing it takes longer. Wear and tear can lead to failures and faults, and cause accidents or unwanted shutdowns if not detected in time.
With the need to replace all or part of equipment items increasing over time, the attention devoted to continuous improvement and maintenance efficiency also rises.
Contracts have been awarded to Aker Solutions and Aibel for work on maintenance and modifications, and these companies provide additional personnel to help carry out such work.
Catering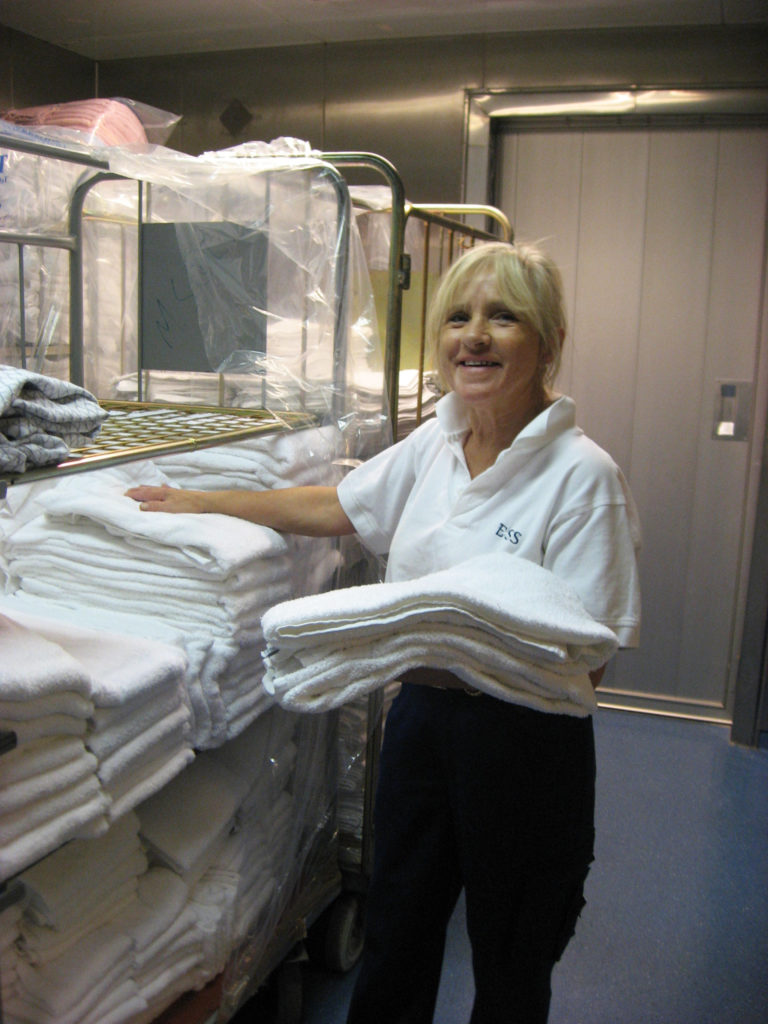 The platform's catering personnel are responsible for such activities as food preparation and cleaning, and are employed by external contractors. Nevertheless, they have been incorporated in the permanent offshore organisation, shown on organograms and included in presentations of the workforce.
That has reflected a desire to minimise the distinction between Shell employees and catering personnel,[REMOVE]Fotnote: Interviews between Nils Gunnar Gundersen and Gunleiv Hadland from the Norwegian Petroleum Museum, 27 October 2016 and 1 November 2017.and the latter have felt an integrated part of the team from the start.[REMOVE]Fotnote: SSP.OKS'EN no 3, 1994, "Draugen- Min Arbeidsplass", Mai Breivik, catering assistant
In collaboration with the platform nurse, catering staff also have roles in first aid, emergency response and drills for this.[REMOVE]Fotnote: Conversation with nurse Carina Løvgren on the Draugen platform, 7 March 2017. A small organisation means people have supplementary duties, particularly if a crisis occurs.
Once a year, personnel practise establishing an emergency sick bay in the mess. Installed in cooperation with the nurse, this facility is dimensioned for up to seven injured people.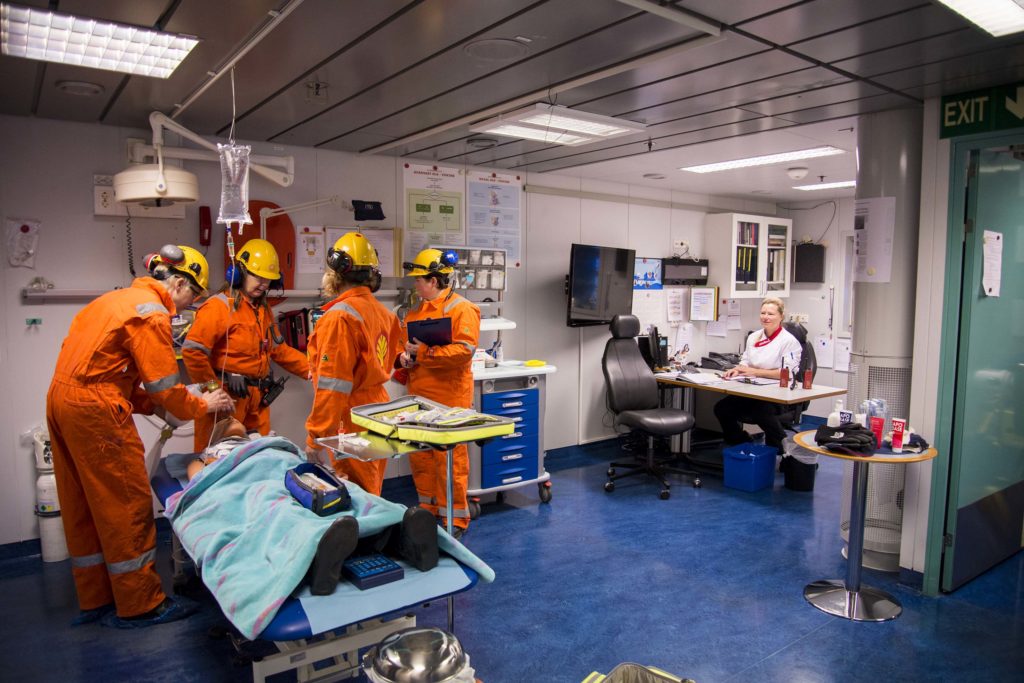 From offshore to onshore
The operations organisation has been split between platform and land, but a trend in working life on Draugen is the transfer of jobs to the onshore team. This has meant a gradual reduction in permanent staffing offshore. Heavy-duty maintenance and major projects are assigned to limited periods during the summer, when extra personnel and specialists on the relevant work are sent offshore.
Photo: Leisure time at Draugen