The city of oil
Kvernberget – crucial for a future in oil
Kristiansund won the mid-Norwegian struggle over involvement in offshore operations. Many years of intensive work gained it the role as base and later operations centre for parts of the oil industry in the Norwegian Sea. A key requirement was an airport.
But the latter did not just happen, either. Securing this facility called for a lengthy battle which began in the late 1950s and led to eventual triumph on 30 June 1970.
The port of Kristiansund is spread over several islands and lacked a road connection to the mainland until 1992. Entering or leaving the region was a long and complicated business until the airport came.
To get to Oslo, locals had to take the bus to Åndalsnes via three ferry crossing and then take the train – a journey of at least 12 hours at best. This lack of infrastructure was long an obstacle to economic development in the town, which lies in the western county of Møre og Romsdal.
A cautious start – without Kristiansund
Kristiansund was not the only Norwegian town to be late taking to the air. Norway ranked in 1930 as one of the few European countries without national aviation services.
With flying confined almost entirely to the armed forces, not a single civilian airport existed on land before 1937 – even though the first aviation commission had been appointed by the government as early as 1918.
This body studied opportunities for establishing regular passenger and mail services. The goal was to create four domestic trunk routes to supplement the existing communications network.
One of these was a west Norwegian service linking Stavanger, Bergen, Ålesund and Trondheim. Since no airfields existed on land, all civil aviation would have to be based on seaplanes.
Among the measures taken was a trial route between Stavanger, Haugesund and Bergen in August 1920, but this was discontinued owing to a lack of passengers, mail and revenues.[REMOVE]Fotnote: Gynnild, Olav (2005). "Begynnelsen, 1905-1940". Norsk Luftfart gjennom 100 år. Norwegian Aviation Museum: 20. Nor was there any popular demand for flying as a means of transport.
A new aviation commission was not appointed until 1930, with a mandate to define relevant domestic and foreign services. It nevertheless concluded that air travel was an uncertain form of communication and that seaplane bases should not be built by the government nor year-round services established.[REMOVE]Fotnote: Ministry of Transport and Communication, 16 December 1964. Recommendations on further development of an airport network. Report from the airport commission of 1962: 7.
Saw the opportunities
Four years later, in 1934, the Storting (parliament) changed tack and decided that the government should prepare a national plan for airports and seaplane bases. State funds would also be devoted to building the latter.
The new airport plan adopted by the Storting in 1936 called for the rapid development of a domestic air traffic network which would benefit as many people as possible.
This national scheme reflected a new attitude about the way aviation could help to develop Norway, both economically and culturally.[REMOVE]Fotnote: Ministry of Transport and Communication, 16 December 1964. Recommendations on further development of an airport network. Report from the airport commission of 1962: 8.
Two mail and passenger services were established, with one following a circular route from Oslo to Bergen, Haugesund, Stavanger, Kristiansand and back to the capital.
The other, which is more interesting in this context, flew between Bergen and Tromsø via Ålesund, Kristiansund, Trondheim, Brønnøysund, Sandnessjøen, Bodø, Svolvær, Narvik and Harstad. Kristiansund thereby obtained its first air link.
With two mail routes also established in northern Norway, these services were primarily intended to carry post but took some passengers as well. However, fares were high and the new transport system was not for the ordinary Norwegian. It still relied solely on seaplanes, which could only operate in the summer and when weather permitted. In other words, this was not a full air service.[REMOVE]Fotnote: Kristiansund Airport Kvernberget. Documentation for archival conservation. 2010: 8
Airports on land
A lack of commitment to aviation by central government prompted several local authorities to take action on their own account, with Stavanger as the pioneer.
In the spring of 1933, the recently founded Stavanger Flying Club raised the issue of an airport for this south-western city. Its construction would provide many jobs in a region plagued by high unemployment.
Norway acquired its first civil aviation facility on land when Stavanger Airport Sola opened officially on 29 May 1937. Oslo Airport Fornebu and Kristiansand Airport Kjevik followed two years later.
All three were established by local authority initiative, and run by their respective city councils. But then came the Second World War, and all civil aviation halted.[REMOVE]Fotnote: Ministry of Transport and Communication, 16 December 1964. Recommendations on further development of an airport network. Report from the airport commission of 1962: 22.
Civil air services were restored on a smaller scale after the war. A seaplane route between Bergen and Trondheim via Ålesund and Kristiansund was established in 1948. A similar service followed in 1951, which also included a landing in Molde. Round trips were flown three times a week, but only in summer season and when the weather permitted. These services were withdrawn in 1958.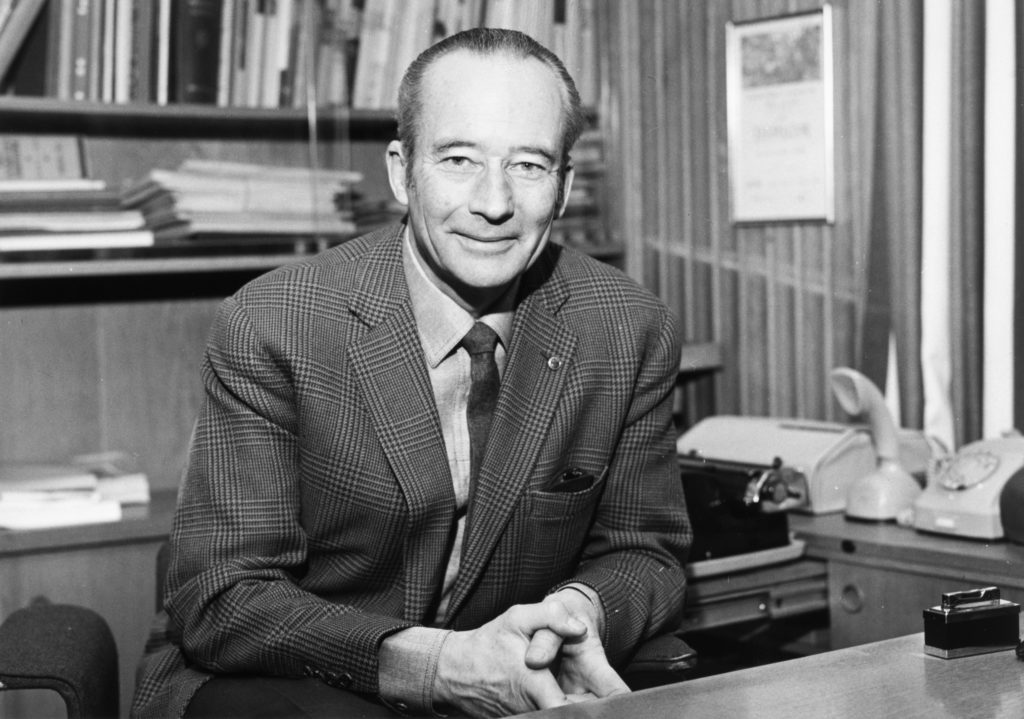 That followed a government declaration in the budget that state aid would no longer be given to seaplane services in western Norway, including the one to Kristiansund.[REMOVE]Fotnote: Romsdalsposten, 5 March 1983. "Da regjeringen sa nei til sjøruten for 25 år siden: Viktig skritt mot flyplass i Kr.sund".
This announcement caused concern throughout the Romsdal and northern Møre districts. It also prompted Kristiansund and local figure William Dall to take action.
"I see no other alternative than concentrating all our forces on securing the construction of the airport at Kvernberget as soon as possible," Dall said in March 1958 in his capacity as chair of the town's communication committee.
Dall had sat on all the county council committees which worked on this question since 1946, and he and others had already pursued the airport issue for many years. And many more were to pass before success was achieved. Dall later became the first chair of Kristiansund's petroleum committee (see the article on xxx).
The central government now began seriously to intensify work on a national trunk network. Aero-engineering had made great strides during the war, when a number of military airfields were also built in Norway.
According to the main 1949 report from the aviation commission on developing airports and seaplane bases, Møre og Romsdal was to be served by the Gossen military airfield in Nord-Aukra, not far from Molde. It had been built by the occupying Germans in 1943.
Before the war, Vigra outside Ålesund had been proposed at the future hub airport. But the commission felt this option would be too expensive compared with upgrading Gossen.
The national aviation plan was approved by the Storting on 10 June 1952, but the Gossen proposal received little support in either Ålesund or Kristiansund.
This location was too far from both northern and southern ends of the county, and therefore of little value. Both towns therefore launched efforts to find alternative sites in their vicinity.
At its own initiative and expense, Ålesund began developing the airport at Vigra with a full 1 600-metre runway. It applied to the government in 1957 to get 75 per cent of the cost refunded, with the state taking over operation as soon as construction ended.
This reignited the debate about airport placement, and the ministry now proposed Vigra as a hub at the expense of Gossen. Central government refunded much of the bill and took over Vigra as soon as it opened on 7 June 1958.
Its completion was a key element in the government's decision to cease funding the west Norwegian seaplane services. Their basis disappeared with the construction of airports in Stavanger, Bergen, Ålesund and Trondheim.[REMOVE]Fotnote: Kristiansund Airport Kvernberget. Documentation for archival conservation. 2010.
Now it was the turn of Kristiansund and Molde to mobilise. The northernmost parts of Møre og Romsdal remained a backwater in communication terms. It took five hours to drive from Kristiansund to Vigra, with several ferry crossings.
Both towns represented large population concentrations and both wanted an airport for their own districts. Old animosities between rival bailiwicks flared up again.
As early as 1955, the county council's highways committee had recommended Kvernberget as an airstrip for small aircraft along with Vigra and Gossen.[REMOVE]Fotnote: Bergens Tidende, 18 June 1955. "Småflyplassene i Møre og Romsdal".
Just four months later, however, it emerged that developing the planned facility outside Kristiansund would be too expensive, with major blasting and infill operations required.[REMOVE]Fotnote: Aftenposten, 18 October 1955. "Flyplassene for ruten Bergen-Trondheim over Møre blir planlagt".
Work begins
As noted above, the Kristiansund town council was determined to secure its own airport and launched systematic efforts to achieve this.
It appointed an airport committee in 1959, with Dall as chair. To secure the necessary land, the council also purchased 53.7 hectares at Kvernberget.
Domestic air services still played a relatively modest role in Norway's overall transport system in the 1960s.[REMOVE]Fotnote: Ministry of Transport and Communication, 16 December 1964. Recommendations on further development of an airport network. Report from the airport commission of 1962: 32 They were utilised almost entirely for long-distance passenger traffic, accounting for one per cent of total transport activity and two per cent of personal travel.
The Labour government appointed a new airport commission in 1962 to plan the future trunk network for aviation in Norway. A key issue was the infrastructure in Møre og Romsdal and whether airports should be built for both Molde and Kristiansund.[REMOVE]Fotnote: The recommendations on further development of the airport network were submitted in 1964.
The airport commission considered Henda on Averøy and Gossen. While Henda is only 30 kilometres from Kristiansund, it would have been a poor choice for the northern Møre port without a bridge.
Both sites were found to represent an unfavourable location, with the commission concluding that neither should be developed as a joint airport for northern Møre and Romsdal.[REMOVE]Fotnote: Ministry of Transport and Communication, 16 December 1964. Recommendations on further development of an airport network. Report from the airport commission of 1962: 78.
On the other hand, it decided that two other potential projects occupied a special position – Kvernberget and Årø outside Molde. The latter had the biggest traffic base and was the cheapest. But Kristiansund's airport committee had worked well to document the necessity of an airport for the town.
In addition to acquiring the necessary land, the local council had prepared a detailed design for a Kvernberget installation in cooperation with the Norwegian Directorate of Aviation.
Molde had secured land, too, although only half the required acreage, and wanted to expropriate the remainder. This project had also been designed in detail.
The challenge for this town was that the built-up area had expanded in the direction of Årø, and aircraft noise could therefore become a nuisance for relatively many residents.
In its 1964 report, the commission decided that airports would be needed in both Kristiansund and Molde. An overall assessment, with particular emphasis on commercial and social aspects, found that Kvernberget should be given the highest priority.[REMOVE]Fotnote: Ministry of Transport and Communication, 16 December 1964. Recommendations on further development of an airport network. Report from the airport commission of 1962: 80.

Both Årø and Kvernberget represented good options, but Kristiansund had greater communication difficulties than Molde. It and Evenes in northern Norway were given top priority, with Molde in third place.[REMOVE]Fotnote: Report no 89 to the Storting (1965-66). Domestic civil aviation etc.
Although this conclusion was clear, the aviation directorate produced its own recommendation that Årø should be developed first because of the bigger traffic potential.
A new round of assessments followed. The transport ministry returned to the possibility of a joint solution, and wanted a fresh study of the Henda project. That meant a further postponement of the decision Kristiansund was waiting for. This aroused disappointment and anger both there and in Molde.
The action committee for an airport at Kvernberget urged people in the town and district to raise the national flag at half-mast in protest against the ministry's announcement.[REMOVE]Fotnote: Adresseavisen, 5 March 1992. "I dag for 25 år siden".
New studies were produced, but the Storting voted on 2 April 1968 for Kvernberget airport and for the construction work to begin immediately.[REMOVE]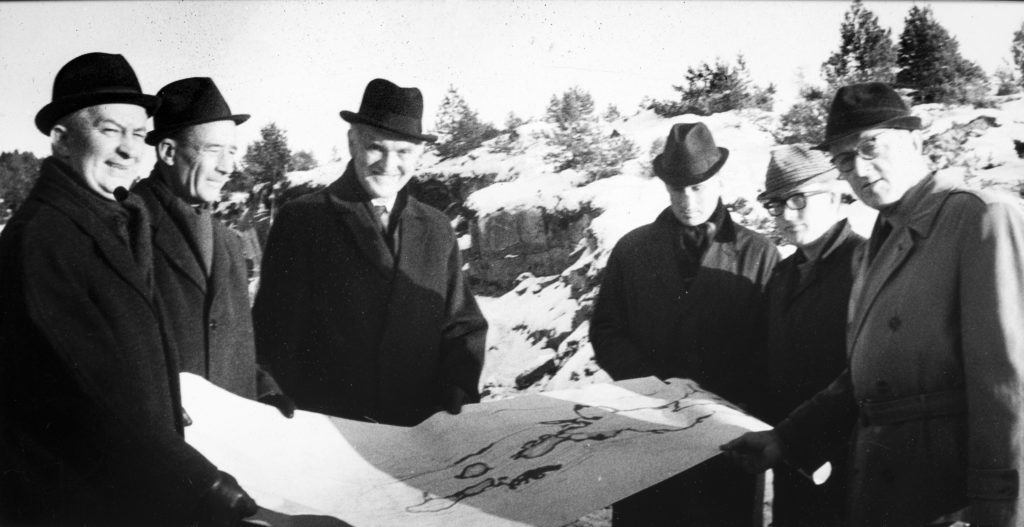 Fotnote: Report no 34 to the Storting (1967-68). On the hub airport network in northern Møre and Romsdal, etc.
Kristiansund Airport Kvernberget was built by the aviation directorate in close collaboration with the town council. That differed from the Vigra development, where Ålesund council took the initiative and carried out the construction work itself.
Official opening
When Crown Prince Harald performed the official opening of Kristiansund Airport Kvernberget on 30 June 1970, an important addition to the town's infrastructure had been put in place.
Traffic at Kvernberget hit a record in 1971, but fell after Molde Airport Årø opened the following year. The global oil crisis in 1973 contributed to a continued decline in passenger numbers.
In 1975, the Storting approved the government's proposal that Kristiansund should serve as the main supply base for the oil industry in mid-Norway.
The continental shelf north of the 62nd parallel was opened for exploration drilling in 1979, calling for a heliport to handle air travel to and from rigs working on the Halten Bank.
Work on this facility started at Kvernberget just after Easter 1980, and was completed in 1982.[REMOVE]Fotnote: [?], 31 May 1980. "Helikopterbase klar til bruk fra 1. juni". A dedicated helicopter terminal opened in 1992. (See the article on the heliport at Kvernberget).
New strife
A fresh airport battle broke out in 1988 between the towns in Møre og Romsdal in connection with the Krifast project to link Kristiansund with the mainland by road.
A number of people felt this removed the need for two airports in northern Møre and Romsdal, since the drive from Kristiansund to Molde would be reduced to less than an hour. In their view, it was necessary to choose between Årø and Kvernberget.[REMOVE]Fotnote: Sunnmørsposten, 11 September 1989. "Flyplasskrig".
Arild Rypdal, airport manager for Møre og Romsdal and the Trøndelag region, told the media that northern Møre and Romsdal should be satisfied with one airport and that "as the structure is now, Kvernberget would be the natural choice".[REMOVE]Fotnote: Romsdal Budstikke, 21 May 1988. "Kvernberget flyplass før Molde".
He believed that services to the county's three small airports were inadequate, and that Møre og Romsdal was a loser from this division. Two medium-sized airports would be better.
His preference for Kvernberget primarily reflected the oil industry's presence, with this airport already experiencing a big increase in offshore-related traffic. Shell was also due to open its Kristiansund operations office for Draugen in 1992, the same year Krifast opened, and the field would come on stream in 1993. An airport in the immediate vicinity was crucial for the oil and gas sector.
But Rypdal's comments prompted a reaction from Molde mayor Ragnar Heggdal. He was unable to see how anyone could propose the closure of Årø. "If we're going to shut down airports, we must in any event begin with those with the smallest traffic," he maintained,[REMOVE]Fotnote: Romsdal Budstikke, 21 May 1988. "Storflyplass på Gossen". making a clear reference to Kvernberget.
As an alternative, he shook the dust off the old idea of an airport for the whole county at Gossen. With an effective transport service and communication system, it would be at a reasonable distance from Kristiansund, Molde and Ålesund.
Nevertheless, none of the three airports were affected once the Krifast project had been completed.
Kvernberget became the growth factor for the Kristiansund area which everyone had hoped for.[REMOVE]Fotnote: Gjenreisningsbyen.no. While it helped to bring the oil sector to the town, its survival and the growth in its passenger numbers depended crucially on this industry.
The city of oil